banana waffle sundae with rum sauce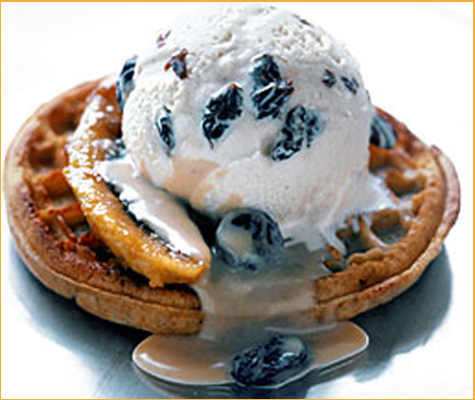 Sugary Sweet Goodness..This is one of the most tasty sundaes I have had in quite awhile. This yummy delight as just the right amount of bananas, sweetness  and creamy deliciousnessss.
It's sure to be an instant favorite that everyone will enjoy. This will make for a nice treat to serve this Mother's Day weekend.
Enjoy!
Banana Waffle Sundae With Rum Sauce
Ingredients
frozen banana-bread waffles, toasted
4 medium bananas, peeled
4 tablespoons butter
1/4 cup dark brown sugar, packed
4 scoops rum raisin ice cream
2 tablespoons dark or spiced rum
3 tablespoons heavy cream
Preparation
Place waffles on 4 serving plates. Slice bananas in half lengthwise, then crosswise so you have 4 pieces from each banana.
Heat butter and sugar in a large skillet over medium heat, stirring, until sugar begins to dissolve. Place bananas in pan, cut side down, and cook until lightly golden, about 1 minute. Turn bananas and cook 1 minute longer. Top waffles with scoops of ice cream. Transfer bananas with a slotted spatula to plates and arrange around ice cream.
Add rum to skillet and simmer 1 minute. Add cream and cook until sugar completely dissolves and sauce is thick, 1 to 2 minutes longer. Pour rum sauce over sundaes and serve immediately.
source:
Real Simple