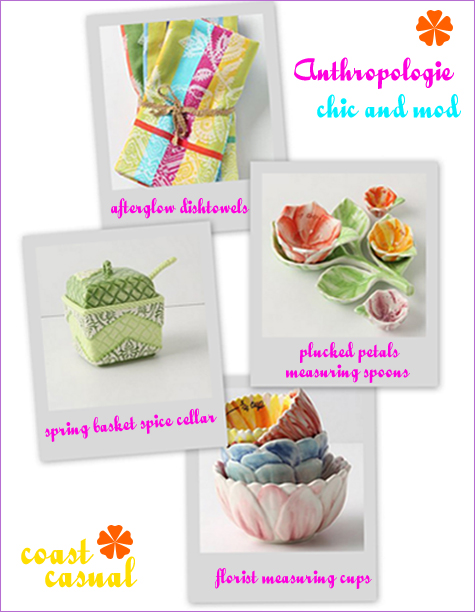 We have some simply chic and mod must haves from Anthropologie that are a definite for your spring décor wish list. Spring will soon be here,  so let's get a jump start and begin making our list for everything we need in order create some posh flavor in the kitchen for spring!
The Afterglow Dishtowels offers up tropical stripes that are decorated with sun-kissed butterflies, leaves and scrolling patterns, perfect for spring!
Cheery and bright is what the Plucked Petals Measuring Spoons are. You will get a quartet of hand-painted blossoms brings florid charm to your countertop as well as your favorite recipes. These will pair very well with the Florist Measuring Cups.
The Spring Basket Spice Cellar is tart, apple green vessel decorated with jaunty roses keeps sugar or salt at arm's reach.
How cute are these Florist Measuring Cups. It is a set of stackable blooms that are definitely pretty enough for a countertop home, which means you never hunt for your measuring cups again.
Enjoy!
celebrate in style…