The holiday season is over, but that does not have to bring an end to your winter entertaining.  If you're in need of some weekend inspiration that's fun and relaxing, a Pizza Party is the way to go. Pizza parties are easy and very simple to plan.  It's a definite crowd pleaser and your guest can even help prepare the pizzas!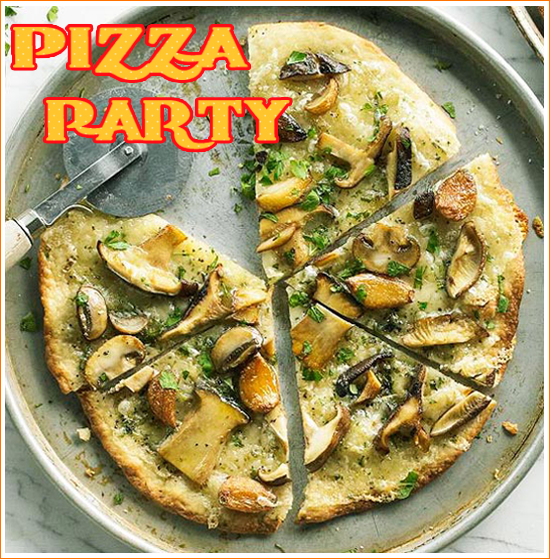 Setting the Scene
The Bar
Mixing up a signature cocktail is a great option for a pizza party. It frees up everyone from mixing up cocktails at the bar and allows you and your guest to have fun preparing the pizzas. Add in some beer, red wine, soft drinks and bottled water and the bar will be up and running in no time at all.
A batch of Scarlet Wine-Punch (shown below) is a cozy winter wine cocktail that kicks it up a notch with the addition of spices and cranberry juice. Best of all, the drink stays warm all evening thanks to the slow cooker.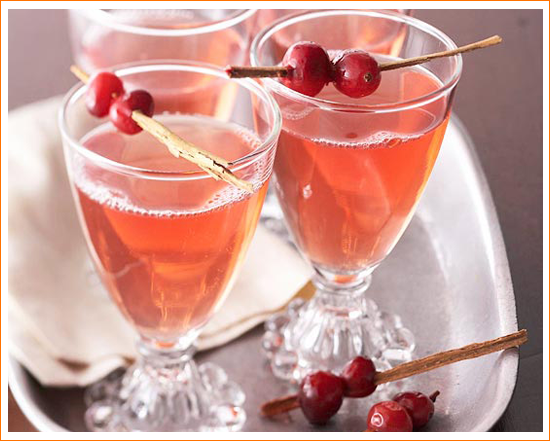 The Food
A few appetizers set up around the bar such as Pepper Bruschetta or Cheesy Breadsticks will be enough for everyone to munch on while waiting for the pizza's to come out of the oven. Also, a Basil-Tomato Salad that combines the flavors of pesto, basil, pine nuts, and Parmesan — mingled with lettuce, grape tomatoes, and lemon vinaigrette will pair perfectly with  the Mushroom-Garlic Pizza (shown above). Add a  Sausage Arugula Pizza and the classic Pepperoni Pizza to the menu and you're all set.
Tip: Make sure to have all the pizza toppings chopped and laid out on the counters for easy access to make the pizzas.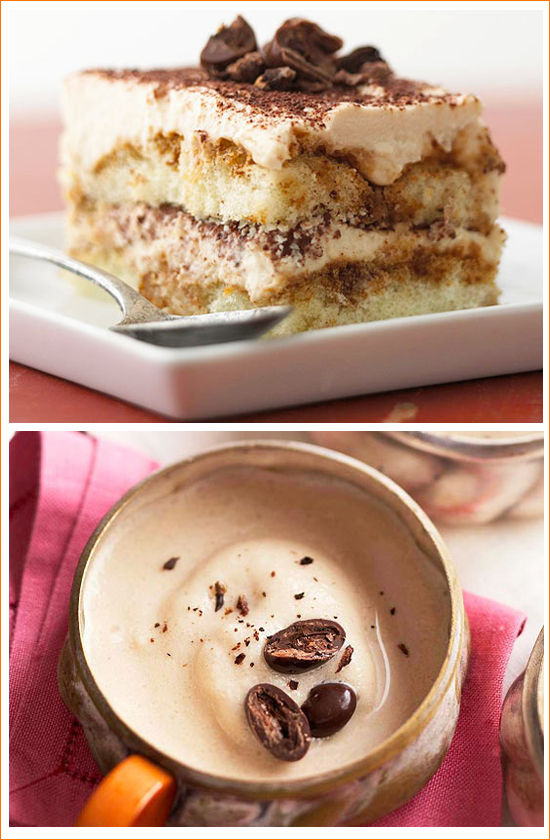 Sweet Endings
After the pizzas are done, sit down with your guest and sip a delightful mug of Tiramisu Tippers or enjoy the flavors of a decadent Triple-Chocolate Tiramisu cake.
The Tiramisu Tipper cocktails are made with ice cream, vodka, coffee liqueur, and crème de cacao and tastes just like the classic Italian dessert. Or you can serve up the scrumptious Triple-Chocolate Tiramisu cake, it has  three times the chocolate, which makes this traditional Italian dessert better than ever.
Enjoy the party!
celebrate life in style…
Save
Save