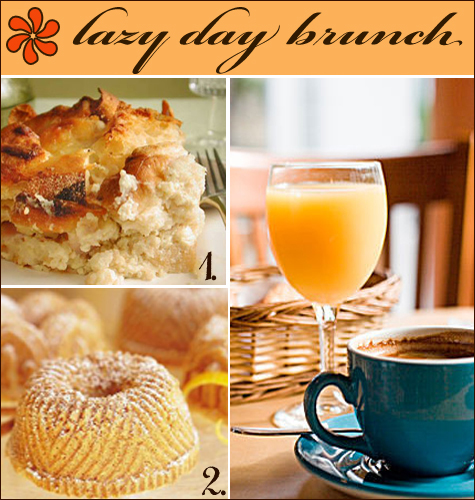 It's Friday and the weekend is here! If you haven't quite decided yet what you're doing this weekend, we have the perfect idea, a Lazy Day Brunch. Putting a brunch together is easy (we've got the plan) and it's a great casual get-together for the weekend.
Here's the plan: A knock out menu with scrumptious  food and a warm inviting atmosphere.
The menu: Create dishes that can be served at room temperature and can be made ahead of time.  It's a good idea to serve up a  a variety of dishes, savory and sweet, also include some fruit dishes. For some great menu recipes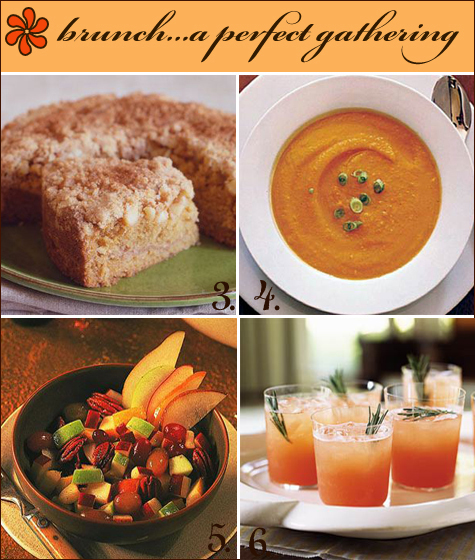 1. For savory dish fix up a delish English Muffin Strata with Ham and Cheese.  This is a great breakfast casserole and hearty enough to have as your main brunch dish.
2.   Mini Spice Bundt® Cakes these little cakes make a lovely addition to an autumn brunch. They are packed with flavorful seasonal spices and will go great with a cup of hot coffee!
3. I am the hostess that feels that at a brunch there should be coffee cake, and to add a twist to it bake up a Brown Sugar-Macadamia Nut Coffee Cake. You can't go wrong with brown sugar, and when you add in Macadamia nuts, you will have a winner.
4. The Carrot-Ginger Soup will be well received at the bunch table. The ginger adds the favor and spice to this delicious and very filling soup.
5. To compliment the strata serve a mouth-watering Harvest Fruit Salad. It's a great combination of seasonal pears and apples that are added in with grapes and pecans. The salad is tossed red wine and sherry vinaigrette dressing – yummy!
6. Holiday Brunch Tonic is a fizzy beverage takes on a festive feel with the scent of rosemary-infused sugar syrup, a refreshing beverage in addition to coffee and fresh juices. For a grown up version add vodka or gin.
* You also want to have fresh carafes of coffee and juice.  Choose a bold roast and a decaf coffee and fresh squeezed juices.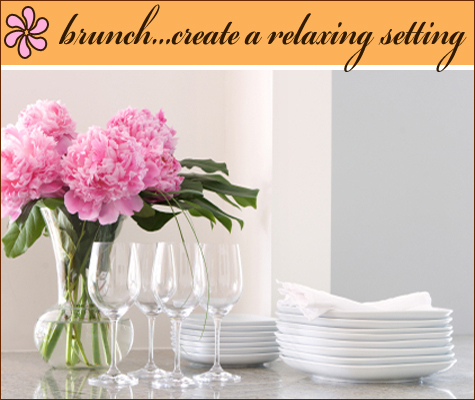 The setting: Create a warm, relaxed and inviting environment  for our brunch. Make sure rooms in which the brunch is taking place has plenty of light and also arrange vases of pretty fresh flowers.
A buffet style set up will allow your guest to move around and mingle while sampling your dishes. You can set up food and beverages on tables that are set up through out the room to make it easy for your guest to eat and socialize with one another.  Another good idea is to arrange over-sized pillows on the living room to allow your guest to get comfortable while eating.
That's it, oh one last thing – enjoy the party!
Have a great weekend.
celebrate life in style…