Most brides often overlook chocolate frosting has a choice for their wedding cakes. More traditional flavors are often chosen in lieu of the rich and decadent chocolate ones. If you're planning your wedding and looking for some different options for your cake and not afraid to go against the grain, check out these for some inspiration.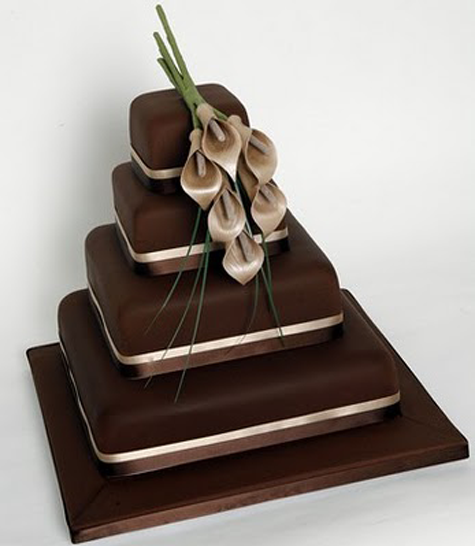 This beautiful square tiered chocolate cake is simply classic. With a beautiful calla lilies on top the simplicity of this cake makes it the perfect choice for a romantic elegant fall wedding.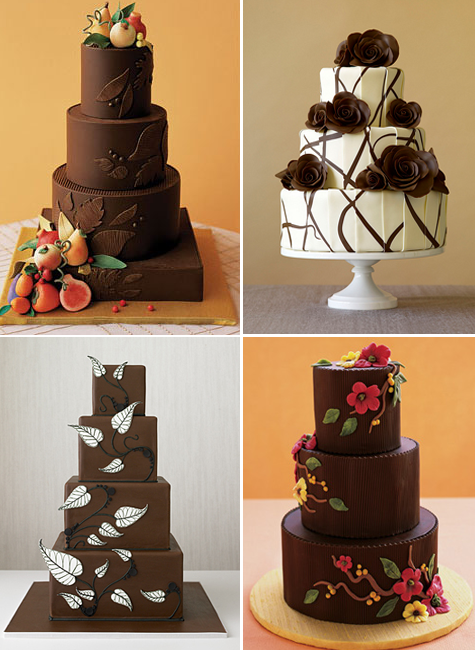 How gorgeous and swoon-worthy are these cakes! Beautifully  decorated with adorable accents, they are fabulous.
The beautiful cake on the bottom left is simply a picture of  Nature at it's Best. The white leaves with finely illustrated lines cascade down a square-shaped chocolate cake, again the perfect choice for a fall or winter wedding.
On top left is a chocolate cake that we found over at brides. It's iced with ganache and decorated with rolled chocolate and marzipan fruit is a perfect complement to an autumn orange color scheme.
I love this cake (top right), it's so stylish and chic, I love it! Baking Arts delivered this white and dark chocolate pleated wedding cake with dark chocolate roses. This is a cake that is perfect for any season.
We came across this cake over at brides as well, and what a treat it is. A chocolate-almond torte filled with apricots and pralines, covered with rolled chocolate, and decorated with marzipan flowers.
 Enjoy the inspiration and happy planning!
celebrate life in style…