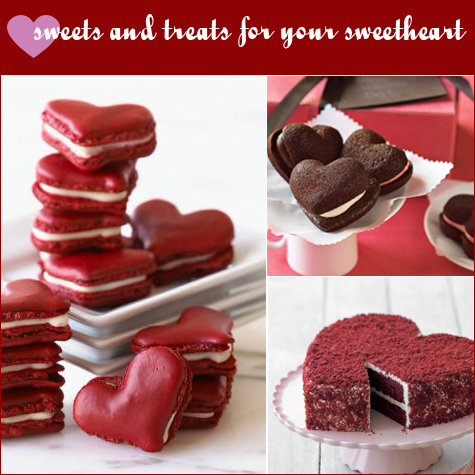 Valentine's Day is right around corner so celebrate in style with your sweetheart or at your Valentine's Day party by enjoying some delicious sweets and treats from Williams-Sonoma. I mean, who could possibly not be overjoyed and filled with delight to receive one of these scrumptious treats on Valentine's Day. Talk about satisfying a sweet tooth!
So these are the sweet treats that we found (clockwise):
Heart Macarons – An irresistible Valentine treat. With an engaging heart shape, this treat is crisp on the outside, moist and chewy inside. Each pair of chocolaty red-velvet macarons is enhanced by a luscious ganache filling that combines white chocolate with heavy cream and fresh buttermilk for a hint of tangy richness.
Sweetie Pies for your Sweetie –  Pure edible nostalgia, the heart-shaped treats recall the whoopie pies beloved by kids but with a decidedly sophisticated twist.
Perfect Ending's Heart Red Velvet Cake – With a melt-in-your-mouth texture, this vintage cake makes a grand finale for Valentine's Day celebrations. The heart-shaped version of the classic cake combines two luscious layers of rich, fudgy devil's food cake with fluffy vanilla buttercream frosting, this one will be hard to resist.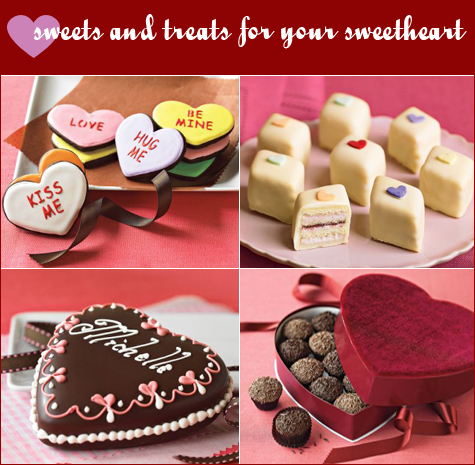 Message Heart Cookies – What a cute and delish way to express your love for your sweetheart! Each crisp heart-shaped chocolate sugar cookie is topped with royal icing and inscribed with a heartfelt message, awe…
Valentine's Heart Petit Fours – These will be perfect for your Valentine's Day party. They are delightful with dessert wines and after-dinner coffee. Each petits fours is topped with delicate marzipan hearts.
Valentine's Day Mini Cupcakes – Send me a box of these! Surprise and delight your valentine with a heart-shaped red box filled with luscious little cupcakes that are as sweet as can be! Each box includes 12 devil's food cupcakes: six topped with chocolate-caramel cream and milk chocolate jimmies and six topped with chocolate truffle cream and dark chocolate jimmies.
Personalized Chocolate Heart – Melt your sweetie's heart with a stunning chocolate valentine cake! How cute is this?
Enjoy!
celebrate life in style…