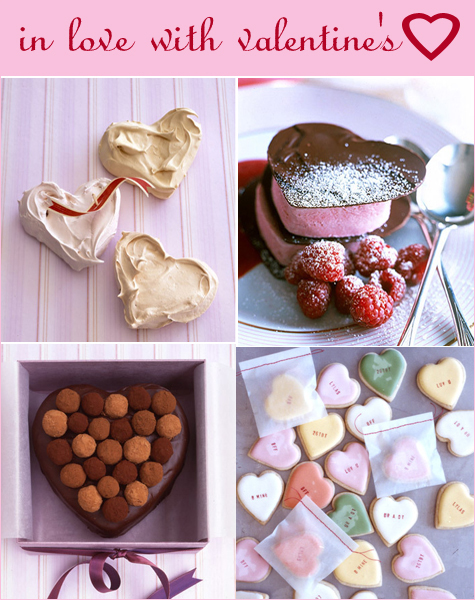 Valentine's Day is all about sharing your love, your heart and some scrumptious mouthwatering treats. Martha Stewart has some yummy heart desserts that you and your sweetie just will not be able to resist. So here's the plan: Set aside some time in schedule today or tomorrow and bake up some of these goodies. Let the children help as well and turn it into a fun DIY project. Place the heart cookies in decorative packaging and hand them out on Valentine's Day.
Here's the hearts that we have (top clockwise):
Pillowy Meringue Hearts:  Brown-sugar meringue cookies that are guaranteed to please. Easy to make just use heart-shape cutters to provide adoring curves.
Chocolate and Raspberry Heart Napoleons: These chocolate hearts are layered with raspberry semifreddo ("half cold" in Italian), a frozen dessert similar to ice cream. YUM-O.
Conversation Heart Cookies: What a delish and pretty way to give messages from your heart to your sweetheart.
Sacher Torte Heart: Give a twist to the Valentine's Day chocolate sampler, and enjoy this heart instead. You can also make a smaller size with is ideal for sharing with your sweetheart.
Enjoy and  Happy Valentine's Day!
celebrate life in style…