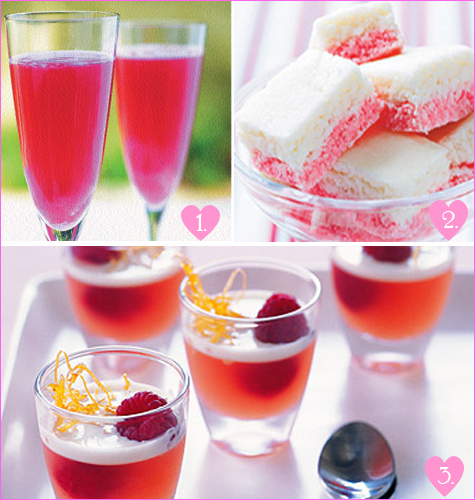 Well, Valentine's Day is approaching so I decided that some inspiration was in order to get excited about the upcoming day of love!
My signature colors for Valentine's Day are Red, Pink and White. So let's start today with some sweet pink inspiration, (red inspiration to follow I promise).  I found some lovely pink sweet treats and cocktails that will be great for a Valentine's Day Party or perfect for you and your sweetie to enjoy. Here you go
1. Is the  mouthwatering Cosmopolitan Champagne, which is a refreshing twist on the Cosmopolitan Martini.
2. Pink and White Coconut Ice, a pretty and pink chewy and delicious coconut treat. It's  a delicious sweet treat for the coconut lover…
3. Pink Grapefruit Jellies with Liqueur Cream, oh how yummy and delish do these look! Not your average jello shot is it.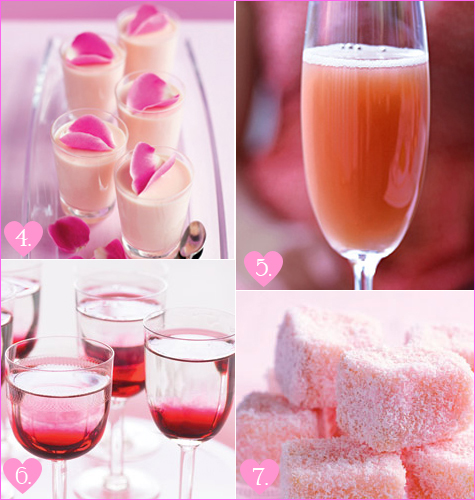 4. Pink White Chocolate Mousse is an elegant dessert, (it has pink rose petals on top) with a creamy whipped texture that you are sure to love.
5. A mouthwatering Pink Guava Sparkling Wine. This cocktail is very easy to make only two ingredients:  guava nectar and sparkling wine. This is a little dose of pink sweetness I must say.
6. Pink Vodka Cocktail,  Clink pink and enjoy this delish mix of fruity flavored triple sec, vodka and sweet grenadine.
7. Pink Lamingtons,  Lamingtons are delicious squares of sponge cake that are very easy to make. How pretty  will these little pieces of pink heaven look on your Valentine's Day dessert table?
Enjoy and go get inspired to celebrate Valentine's Day!
celebrate life in style…