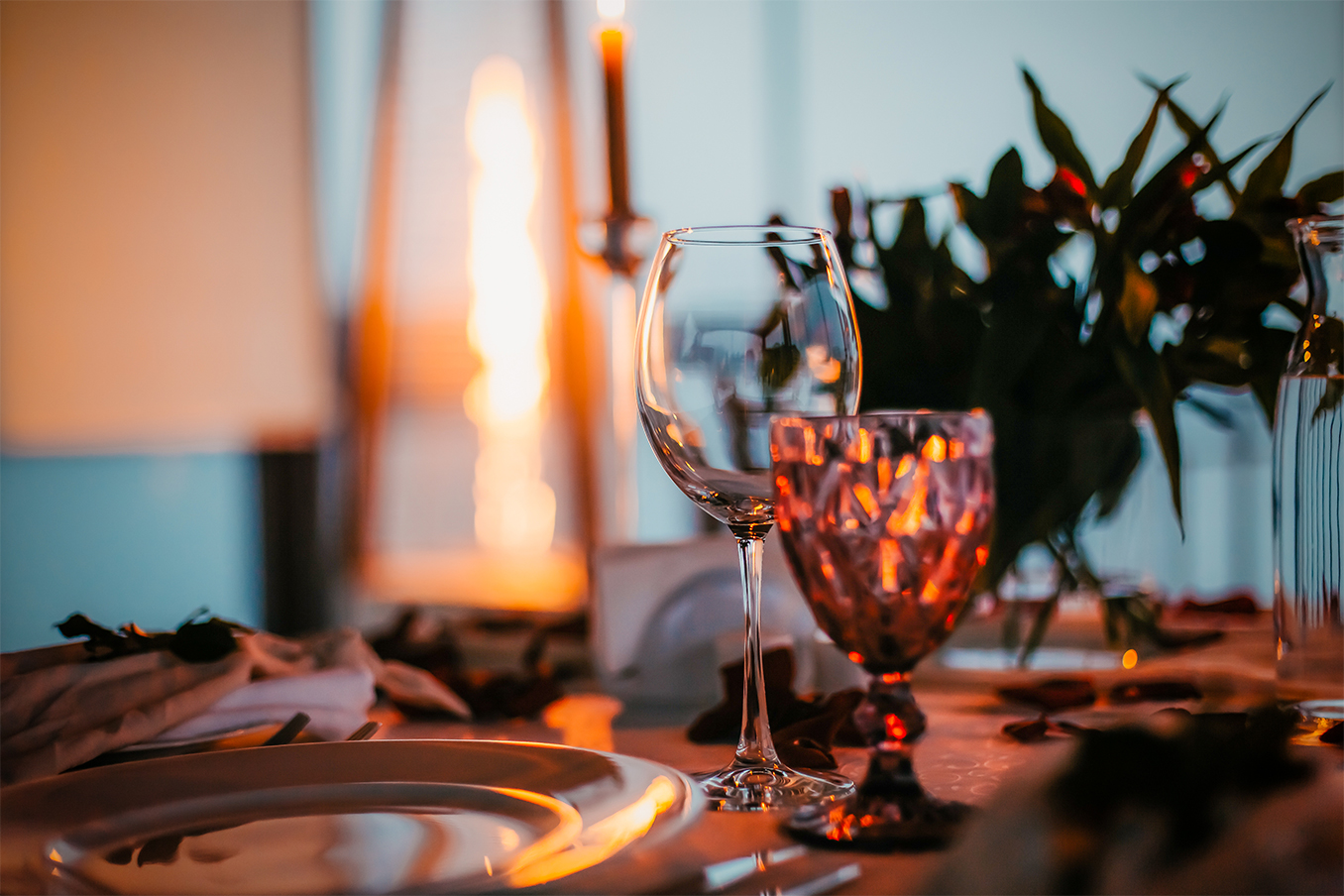 This year indulge in an evening that's filled with love and seduction from start to finish and design a romantic fireside Valentine's Day dinner for two.
The menu for this cozy dinner for two is simple and easy; we've also included the perfect wine to pair with the meal. All you have to do is add romance, passion, and love. After all, the love is in the details…
SET THE TONE: Dim the lights; soft lighting encourages a romantic atmosphere. If you have a fireplace, top the mantel with candles and light a fire. If you don't have a fireplace, no worries; arrange an assortment of candles on the hearth. The fire and lit candles will also illuminate your intimate room. For the music, choose one of your playlists filled with soothing and relaxing tranquil songs.
SET THE TABLE: Symbolize love and romance by draping the table with a fiery red linen tablecloth; alternatively, you can also use a white linen tablecloth. White table linens give the appearance of elegant fine dining; pair with cloth napkins that match up with your table linens. Set the table with stylish and elegant white china tableware and go with a similar selection of opulent utensils that coordinates with the dinnerware. Place a clear glass next to each plate for water as well as a wine glass.
CENTERPIECE:: Choose a floral centerpiece; nothing else speaks to the love and romance of Valentine's Day better than flowers. Remember that roses are not your only choice for romantic florals; think tulips, carnations, or one of my personal favorites, ranunculus. Please keep it simple, arrange the blooms in a low vase that will not obstruct the evening's view and conversation.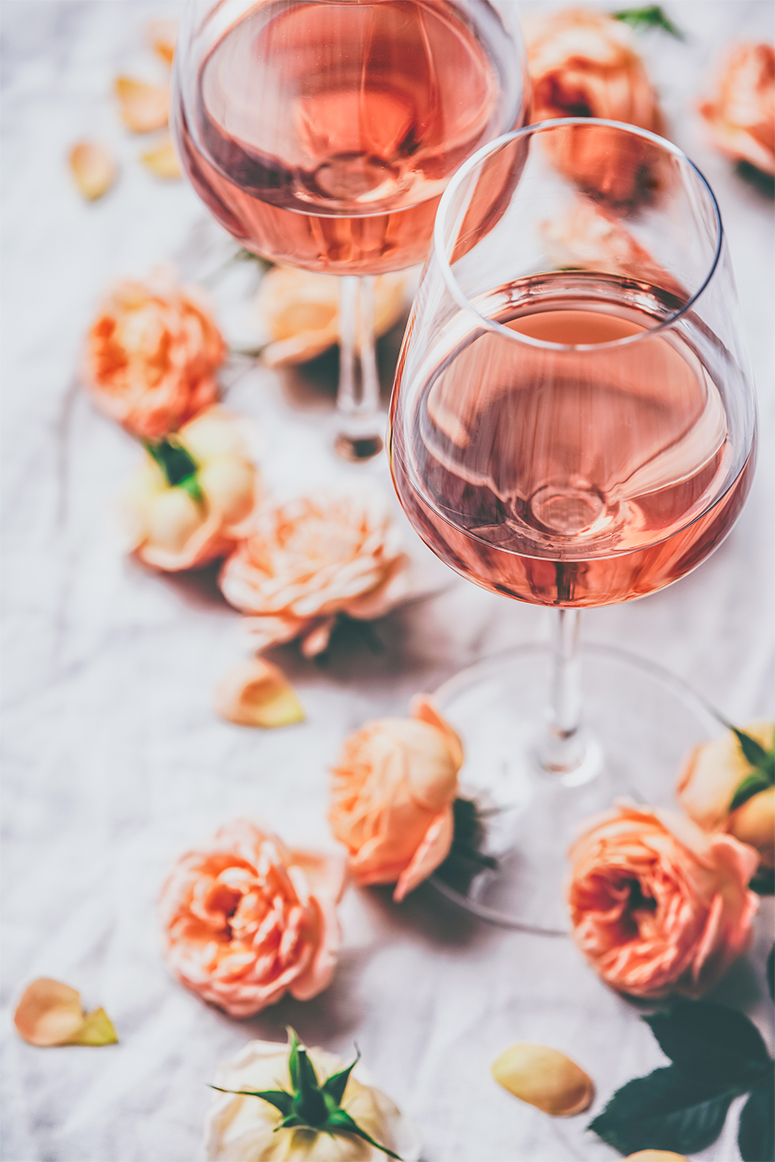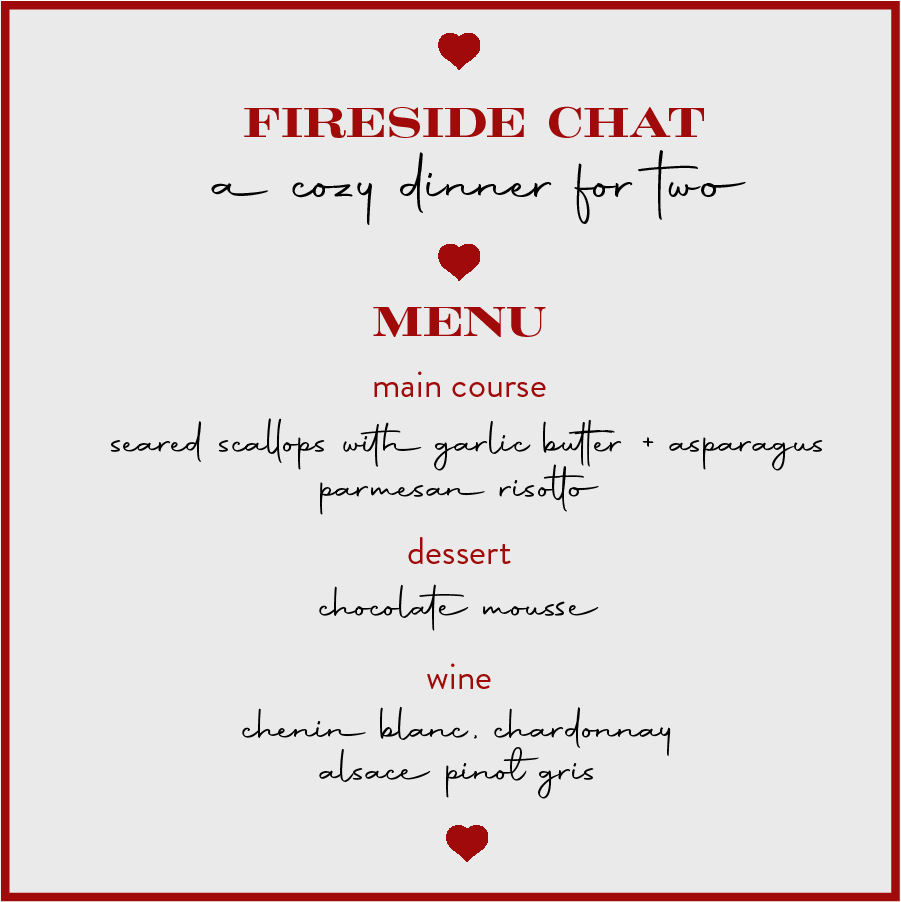 PAN SEARED GARLIC BUTTER SCALLOPS
Swoon-worthy…these scallops are cooked until golden brown and finished with a buttery garlic herb sauce. Click

here

for the recipe.
MUSHROOM PARMESAN RISOTTO
A creamy and silky Parmesan Risotto with garlic is an easy and perfect side dish for your Pan Seared Garlic Butter Scallops, click

here

for the recipe.
CHOCOLATE MOUSSE
Rich, creamy and thick Chocolate Mousse is the perfect romantic dessert for your cozy dinner for two, find the recipe here.
WINE – DOMAINE TOUSSAINT VOUVRAY
This 100% Chenin Blanc has an off-dry character that is fruity in nature, and not just sweet. Bright floral, ripe peach, and honeysuckle aromas are pronounced and luxurious. The flavors of ripe melon, tropical fruit, and ripe apples show a nice roundness. Click

here

 to purchase a bottle.
Wishing you a very happy Valentine's Day. Enjoy + Celebrate Life In Style…