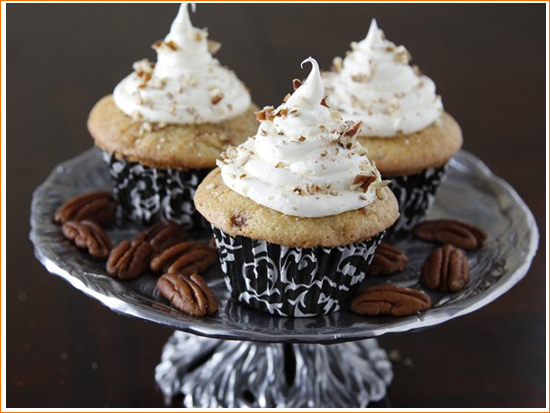 The Sweetness of Winter: Cinnamon Roll Cupcakes – could you ask for a better way to start your week off? Cinnamon has an aroma that we always tend to associate with the fall and winter seasons, it gives us a sense of coziness and warmth. Also, if you're like most of us –  cinnamon rolls are always a welcome treat at the breakfast table. Well, with these little sweet delights you can enjoy the flavors of cinnamon rolls all day – not just for breakfast.  They're great to serve up at a brunch or afternoon tea. You can even enjoy them with your morning cup of java!
Here's the recipe: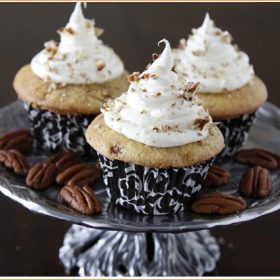 Ingredients
2 tablespoons sugar
1/2 teaspoon ground cinnamon
1 box Betty Crocker® SuperMoist® yellow cake mix - Water, vegetable oil and eggs called for on cake mix box
2 containers (12 oz each) Betty Crocker® Whipped cream cheese frosting
1/2 cup pecans, coarsely chopped
Instructions
Heat oven to 350ºF.
Place paper baking cup in each of 18 regular-size muffin cups.
In small bowl, stir together sugar and cinnamon; set aside.
Make cake batter as directed on box.
Fill muffin cups about 1/2 full.
Spoon generous 1/4 teaspoon cinnamon sugar onto center of batter in each cup; top cinnamon sugar with the remaining batter divided evenly among cups.
In each cup, swirl batter with toothpick to create a spiral effect.
Bake about 20 to 25 minutes or until toothpick inserted in center comes out clean.
Cool in pans 10 minutes; remove from pans to cooling rack. Cool completely, about 30 minutes.
Place frosting in decorating bag fitted with round tip #20.
Starting at outer edge of cupcakes, pipe frosting in spiral pattern, gradually elevating to a peak in center; garnish with pecans.
Recipe source: Betty Crocker
Enjoy the sweetness of winter!
celebrate life in style…
Save
Save