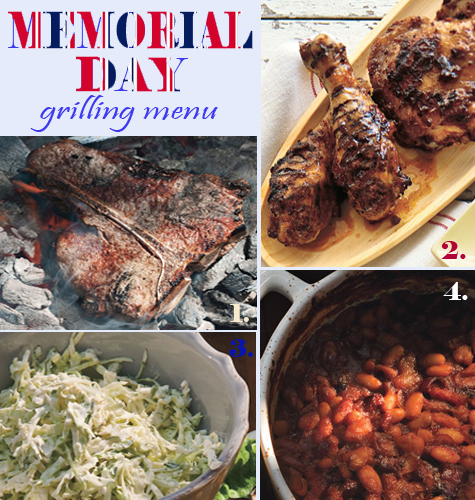 Need help on your Memorial Day Grilling Menu? No problem we got it covered! We have a menu that's sure to  impress your guest and crown you the hostess with the mostess!
First up on the menu the meat.
1. Caveman Porterhouse with Poblano Pan-Fry –  The recipe pays homage to the prehistoric pitmasters, in that the giant steaks are cooked directly on hot coals. This method gives you a steak that's moist on the inside and pleasantly charred on the outside.
2. Spicy Chipotle Grilled Chicken – This recipe is packed with heat and spiciness.Start preparing this dish one day ahead since the chicken needs to marinate overnight.
For the super sides

3. Creamy Cilantro-Lime Slaw – This slaw as the right balance of flavors. With the fresh lime juice and chopped fresh cilantro, it's  a winner.
4. Root Beer Baked Beans – Super yummy and we bet that this recipe  will become a staple at your BBQ's going forward. The flavors of the root bear and bacon are perfect.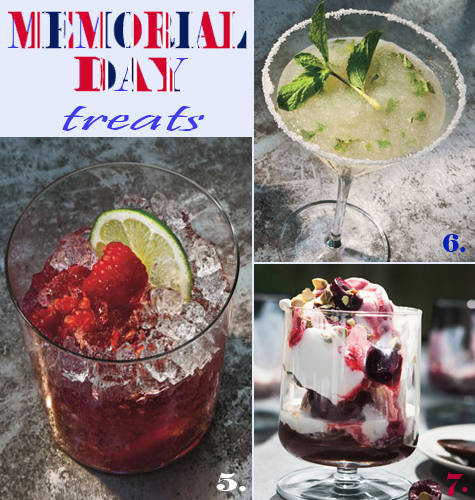 And now for the super delicious treats cool cocktails and as a scrumptious dessert!
5.  Raspberry-Rose Gin Rickey – A Gin Rickey is a mix of gin, lime juice, and club soda. Add some crushed raspberries and rose water, and you'll have Raspberry-Rose Gin Rickey.
6.  Blended Golden Mojito – The classic flavors of the Mojito (mint and lime) are blended into a slushy to make a refreshing cocktail.
7.  Spumoni Sundae with Espresso Hot Fudge Sauce – A creamy frozen dessert of ice cream, whipped cream, rum, nuts, and candied fruit.
Enjoy the inspiration and have fun at the BBQ!
celebrate life in style…