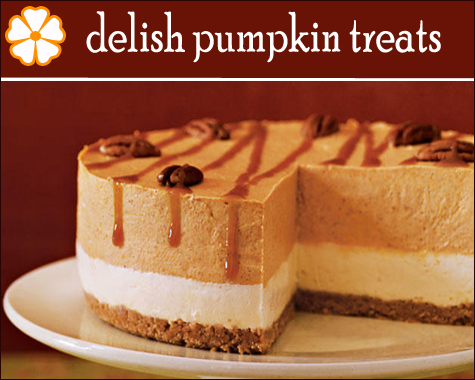 Celebrate Thanksgiving with the season's offerings of pumpkins  with one of these delicious desserts. From pie to cheesecake to ice cream cake, we've rounded up some scrumptious pumpkin dessert recipes that will dazzle your guest at the Thanksgiving dessert table!
The Layered Pumpkin Cheesecake (above) makes a dramatic presentation with its two layers of white and pumpkin and cheesecake applaud this addition to the Thanksgiving dessert table. It's loaded with tons of sweet cream cheese and delicious ginger and pumpkin spice. For more delish pumpkin treats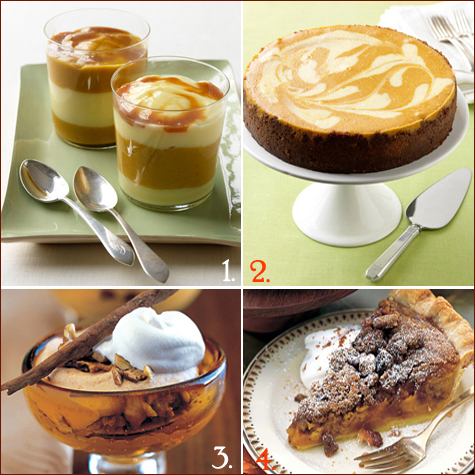 1. Pumpkin Pudding Parfaits –  Don't these look absolutely awesome! Once you try homemade pudding, you will never buy pre-packaged from the store again. This pumpkin flavored pudding is sweet way to end a holiday meal and a favorite for the kids.
2. mmmm, a Pumpkin-Ginger Cheesecake.  If your guest prefer cheesecake to pumpkin pie, this pumpkin cheesecake will be perfect!. It's sweet and spicy with  crystallized ginger studs in a pumpkin cheesecake filling and the crust combines walnuts with gingersnap cookies, yummy!
3. Frozen Pumpkin Mousse with Walnut-Toffee Crunch. This pumpkin treat is amazing and sensational. This will become a new favorite dessert for you and your guest. With no pastry crust to wrangle, these luscious parfaits of pumpkin mousse and cream are easier to make than pumpkin pie. Doesn't this make your mouth water?
4. A warm  Pumpkin Pie with Spiced Walnut Streusel. This is heavenly! It's a crusty topping against smooth pumpkin, with just enough of the streusel to make a difference. It's a knockout and everyone will love this as it may be the best pumpkin pie they've had!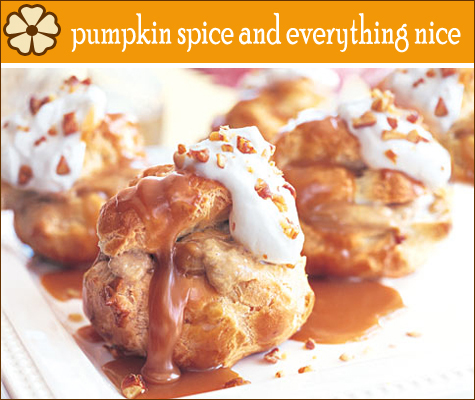 Pumpkin Custard Profiteroles with Maple Caramel, I really don't know where to start. This one is too beautiful to eat. The pumpkin custard is excellent with the caramel and these may be the biggest hit to your Thanksgiving dinner. You may have some custard left over if you make the 16 small profiteroles that the recipe calls for, so go for it and make 8 large ones or double the dough that way you won't have any custard left over. These are also great comfort food for the winter!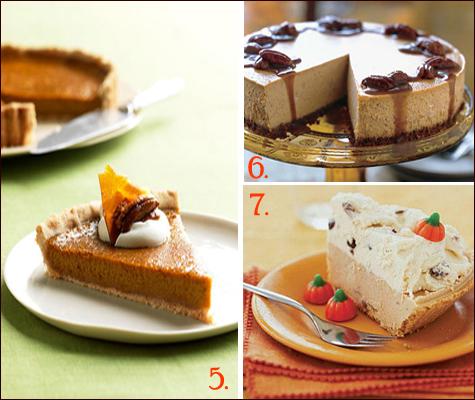 5. This Pumpkin Tart with Pecan Brittle a pumpkin tart with a twist. The tart has a satisfying crunchy-nutty bite from the pecans in the crust and in the brittle topping.
6. Tasty, tasty, tasty…  A Spiced Pumpkin Cheesecake with Caramel-Bourbon Sauce, this will be a huge hit, as it is sinfully delicious! This luscious cheesecake may end up being the only dessert you make for Thanksgiving going forward. The caramel-bourbon sauce is simply to die for! There will be no leftovers for this one, so get your piece first! Tip – make this luscious dessert a day ahead.
7. Pumpkin Ice Cream Pie – If you looking for a yummy and easy pumpkin pie recipe for Thanksgiving, this is it. All you need is some rum raisin ice cream, pumpkin pie mix and graham cracker crust. That's it and you'll have a delicious pie to add to the dessert table!
So which one of these will be a favorite at your Thanksgiving dinner?
Enjoy!
celebrate life in style…