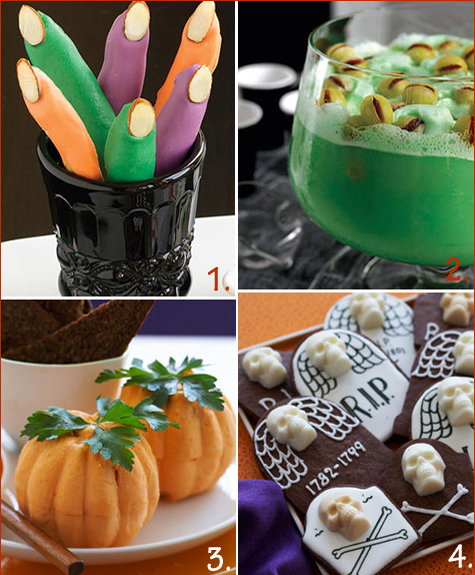 Here are some Halloween goodies that I found over at Woman's Day Halloween Headquarters, that are both sweet and savory. These goodies will entice your guest to nibble if they dare…
1.  Witch's Finger Cookiesare these tasty tender shortbread cookies that look like witches fingers. These scary Witch's Finger Cookies are easy to make and are sure to impress your guest.
2.  Dragon's Eye Brew is a spooky scary delicious punch made with ginger ale and lime sherbet. To make the Dragon's Eyeballs white seedless grapes and cranberries (or raisins) are used.
3. The  Cheese Pumpkins is a great appetizer for your party and couldn't be easier to make. Pair it up with toasted pumpernickel bread or crackers, and you will have the perfect dish.
4. Your guest will not be able to resist these graveyard goodies! These Chocolate Tombstone Cookies are scary in a cute way, with the skull face and cross bones, these are the perfect sweet treat!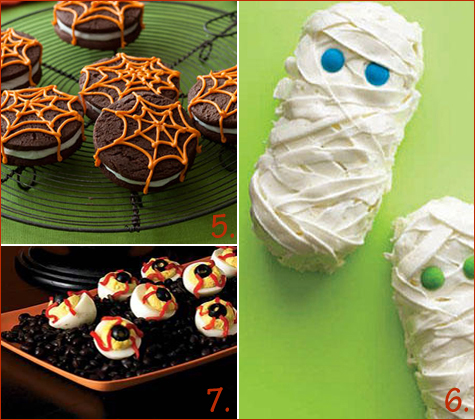 5.  Spider Cookie Sandwiches are cute cookie sandwiches, with spider webs on them. They are stuffed with a creamy marshmallow and cream cheese filling – YUM
6. The Mummy Cakes are so ADORABLE, makes you wonder if you really want eat these. These little cakes are made by using Twinkies Snack Cakes, mini M&M's candies and white frosting. Very easy to make, your kids should  help make this one for the party!
7.  Bloodshot Deviled Eyeballs will have your guest eyes peeled for fun. These deviled eggs are packed with flavor and a crowd pleaser. Make sure to make enough!
Okay so there you go, some great recipes to whip up for your party.  Let me know which one's turn out to be favorites of your guest.
Enjoy!
celebrate life in style…
Save