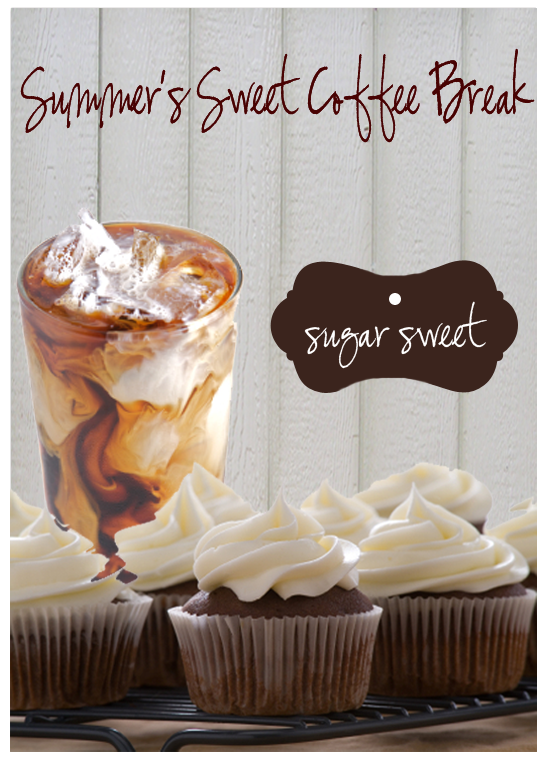 Happy Monday! It's the beginning of the work week and we're serving up some yummy sugar sweets that will turn your boring Monday coffee break into a Summer Sweet Coffee Break . During the muggy dog days of summer, I love to drink iced coffee drinks and the Iced Mocha Swirl is one of my favorites. Not only is it easy to mix up, it's very refreshing. Simply pour coffee over ice, mix in a little vanilla syrup and drizzle with some chocolate syrup, and you're done.  And if you're wondering what little sweet treat pairs great with your iced mocha swirl – I've got an easy answer – Chocolate Espresso Cupcakes with Mocha Buttercream Frosting! With these cupcakes, you're going to get a mouthful of pure chocolate decadence, seriously.
Here's the recipes.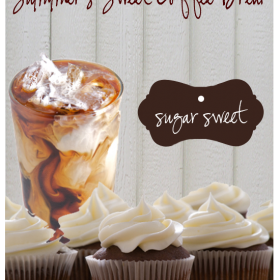 Ingredients
1⅓ cups all-purpose flour

⅓ cup unsweetened cocoa powder

1 teaspoon baking powder

½ teaspoon baking soda

¼ teaspoon salt

½ cup whole milk

½ cup strong brewed coffee

1½ teaspoons espresso powder

1 teaspoon vanilla extract

½ cup (1 stick) unsalted butter, at room temperature

½ cup granulated sugar

½ cup light brown sugar

1 egg, at room temperature
Instructions
1. Mix the espresso powder into the brewed coffee until dissolved; set aside to cool to room temperature.
2. Preheat the oven to 350 degrees F. Line a standard-size muffin tin with paper liners.
3. Whisk together the flour, cocoa powder, baking powder, baking soda and salt.
4. Beat the butter and both sugars together on medium-high speed until light and fluffy, about 2-3 minutes. Add the egg and beat until combined. In a measuring cup, combine the milk, brewed coffee mixture and vanilla. Slowly add the flour mixture, alternating with the coffee mixture, ending with the flour mixture.
5. Divide the batter evenly between the 12 liners. Baking for 17-20 minutes or until a toothpick inserted in the center of a cupcake comes out clean. Cool completely before frosting cupcakes.
Ingredients
1 cup (2 sticks) unsalted butter, at room temperature

2½ cups powdered sugar

1½ teaspoons vanilla extract

1½ teaspoons espresso powder

1 tbsp half & half or heavy cream

pinch of salt
Instructions
Mix the espresso powder into the vanilla until dissolved; set aside.
Using the whisk attachment of a stand mixer, whip the butter on medium-high speed for 5 minutes, stopping once to scrape the sides of the bowl. Reduce the mixer speed to low and add the powdered sugar a little at a time, waiting until it is mostly incorporated before adding more. Once all of the powdered sugar has been added, scrape the sides of the bowl and increase the speed to medium-high and whip until fluffy, about a minute or two.
Add the espresso, salt, half & half or heavy cream, and the vanilla mixture and continue to mix at medium-high until it is completely incorporated, scraping the sides as necessary.
Ingredients
1/2 oz vanilla syrup

4-6 ice cubes

1 cup 2% milk

2 shots of espresso

1 tablespoon heavy cream

drizzle of chocolate syrup
Instructions
Pour vanilla syrup into your glass or jar then place ice in the jar.
Slowly pour milk over the ice.
Pull your shots of espresso and pour them over the milk.
Drizzle cream and then chocolate over the top.
Enjoy your coffee break.
celebrate life in style…
Save
Save
Save