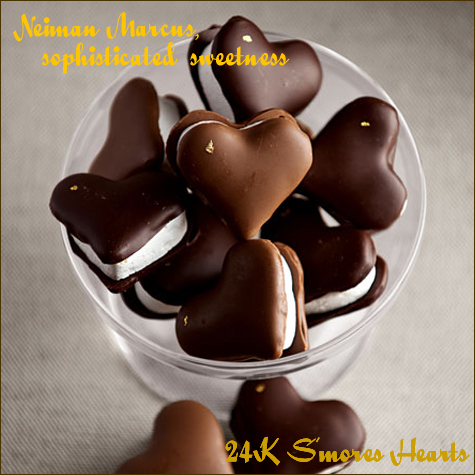 Well, I've some sweet happiness in the form of chocolate over at Neiman Marcus that are just to irresistible to pass up. If you're planning to a have a winter coffee and dessert party, bridal shower or baby shower these delectable treats will be perfect for occasion.
First up are mouth-watering 24K S'mores Hearts™ – This is a sophisticated version of a favorite childhood classic treat. Marshmallow hugged by two chocolate-dipped graham cracker hearts is decorated with a kiss of edible gold, uhmm yummy! For more sophisticated sweetness from Neiman Marcus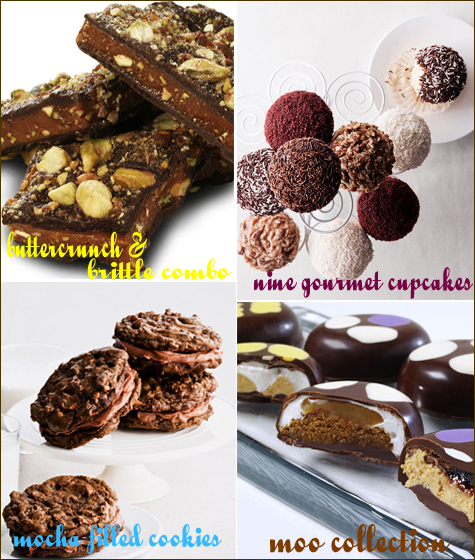 Chewy chocolate Mocha-Filled Cookies are chocolate-chip cookies sandwiched with a layer of fluffy mocha cream for a tasty treat perfect for the dessert buffet. For an extra-special treat, try freezing before serving.
Ready for a delicious sweet duo of butter and salt,then try these Buttercrunch & Brittle Combo, this treat will have you swooning!
Want a good cupcake, no a good cupcake, how about a really sensational cupcake? Well the Nine Gourmet Cupcakes are a Neiman Marcus exclusive treat and these humble cupcakes have gone from birthday parties to big-city boutique bakery. The cupcakes are  exquisitely decorated and a divinely delicious mini cake just for you. Each order includes nine of one flavor. Choose Chocolate Red Velvet, Chocolate Espresso, Black & White, German Chocolate, Vanilla, or Spiced Pecan. Or, choose the Chocolate Lover's assortment to get three each of chocolate red velvet, chocolate espresso, and German chocolate. From Perfect Endings.
The Moo Collection is a collection of sweet somethings— rich, decadent treats. Each Moo is made of dark Belgian chocolate, filled with layers of classical ingredients. The Moos are available in three different flavors :
• Black & White Moo: Filled with thick layers of homemade marshmallow, caramel, and graham cracker highlighted with white chocolate.
• Elvis Moo: Natural banana marshmallow layered with rich, crunchy peanut butter covered in a shell of dark Belgian chocolate.
• Peanut Butter & Jelly Moo: Layers and layers of peanut butter and jelly and drizzled with white and purple chocolate.
Enjoy these sweet treats!
celebrate life in style…