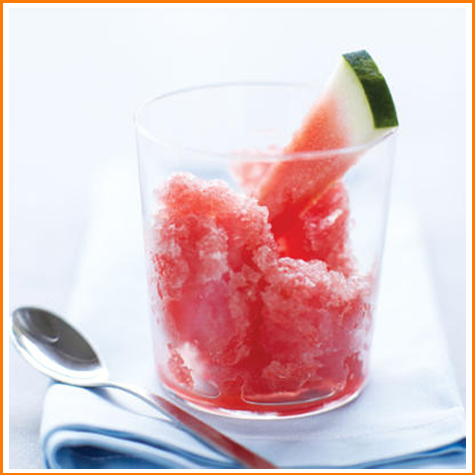 Put a chill on the summer heat this weekend with a Watermelon Granita. This real summertime refreshing treat that everyone will enjoy. It will put a smile on your face, we promise!
Here's the recipe.
Prep and Cook Time: 30 minutes, plus 8 hours to freeze.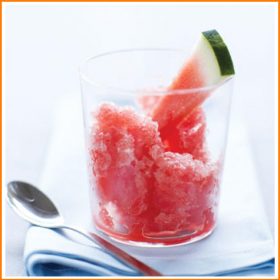 Ingredients
1 cup sugar

2 teaspoons grated lime peel

2 pounds seeded chopped watermelon (about 3 lb. unpeeled)

* About 1 teaspoon lime juice
Instructions
In a 1- to 2-quart pan over high heat, combine 1 cup water, sugar, and lime peel and bring to a boil. Let cool, then pour through a fine strainer into a bowl.
In a blender, whirl watermelon and 1 cup of the lime syrup until smooth. If there are seeds, pour mixture through a fine strainer into a bowl. Stir in the lime juice. Add syrup and/or lime juice to taste (mixture will taste less sweet once frozen).
Pour purée into an 8-inch square baking pan. Cover with plastic wrap and freeze until mixture has started to freeze at the edges but is still slushy, 2 to 3 hours. Stir the mixture thoroughly, scraping the sides down. Cover and freeze until solid, at least 8 hours.
To serve, scrape with a fork to make large flakes and spoon into chilled glasses or bowls.
Recipe Source:  Sunset
Enjoy your weekend!
celebrate life in style…