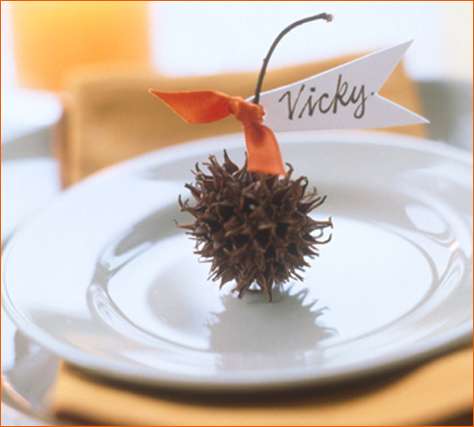 We are so EXCITED to be in full swing of the Holiday Season and can't wait for the holiday parties and celebrating to start! As you're preparing and planning  for Thanksgiving you want to make sure that everything is perfect, from your dinner to the atmosphere you create. You will want to set a stylish Thanksgiving table to celebrate at with your friends and family! We found  some very cool and chic ideas that we think you will love. We found this very charming  Sweet-Gum-Tree Spur Place Setting over at Martha Stewart, isn't this soo cute. This is very easy to make and brings the outdoors to your table.  For more inspiring Thanksgiving ideas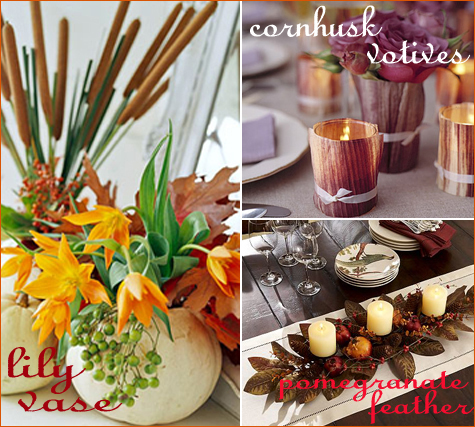 For a beautiful and elegant table setting lilies are always a perfect choice and when you use white pumpkins as your vase you will create a striking centerpiece. This Lily Vase from BHG has orange lilies and preserved fall leaves that fill the front container, and cattails and berries are behind in a second vase.
The Cornhusk Votives are very stylish and classic. The votives are wrapped in dried cornhusks,  and cast a soft glow and serve as a reminder that corn was part of the first Thanksgiving feast.  I love these and they are so simple yet so classic. You can find out how to make these over at Martha Stewart.
If you're not in the mood to create a table setting this year, no worries head on over to Pottery Barn and check out the beautiful centerpieces they have. The Pomegranate Feather Centerpiece is just stunning and just right for the season. This has a mix of faux pomegranates, leaves and berries, that are gathered with real pinecones and evokes the beauty of autumn and the bounty of the harvest.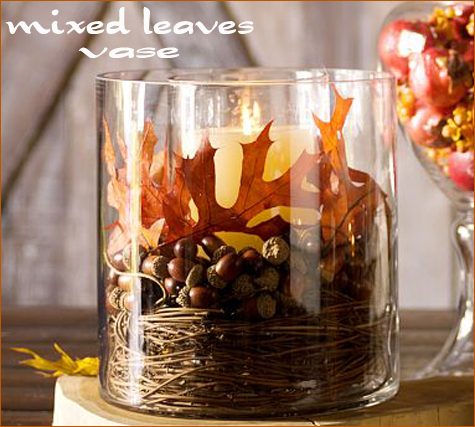 I found this great idea over at PB as well. It's a little DIY but not much. The Mixed Leaves Vase Filler allows you to create seasonal centerpieces with  decorative autumn leaves in various vases. This will lend a harvest warmth to your holiday display.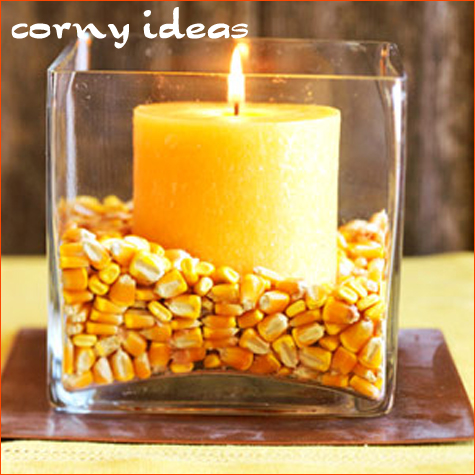 For a beautiful candle table setting that is pretty and easy go for a Corny Idea. Just place a pillar candle in a clear, square glass container, then add corn kernels about halfway up the height of the candle – oh this is cute right?
Hope you enjoy and are inspired!
celebrate life in style…