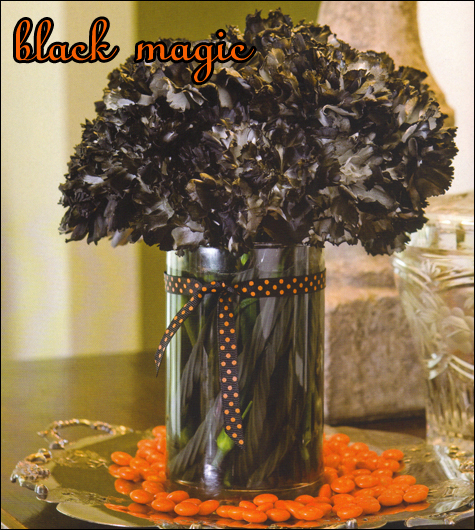 I picked up Phyllis Hoffman Celebrate Halloween Magazine over the weekend, the magazine has some really cool and inspiring ideas for Halloween. I found some easy and simple centerpieces to create for Halloween that I thought you would enjoy. I think these are perfect for the tabletop and as decorations to display throughout your home to create a ghoulish but stylish atmosphere for your Halloween.
Black Magic Centerpiece
Things to gather:
White Carnations
Round vase
Black floral spray paint
Licorice sticks
Ribbon
Lightly spray the carnation blooms black, leaving some of the centers white. Fill the vase with water. Trim the stems of the flowers to the desired length. Slip the licorice sticks inside the vase to hide the flower stems. Tie the vase with a ribbon.
Bloomin' Jack – o'- Lantern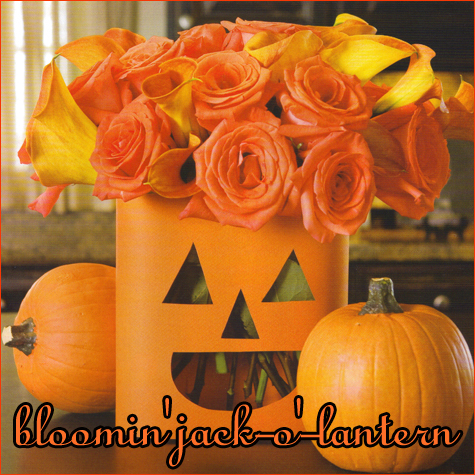 Things to Gather
Narrow horizontal vase
Construction Paper
X-Acto  knife or scissors
Tape
Roses
Calla Lilies
Cut the construction paper the height of the vase and wide enough to wrap around it. Cut out the eyes, nose, and mouth of the jack-o-lantern. Wrap the paper around the vase, and tape in place. Trim the flower stems, but keep them long enough to show the mouth cutout-they become the jack-o-lantern's teeth.
Spider Bouquet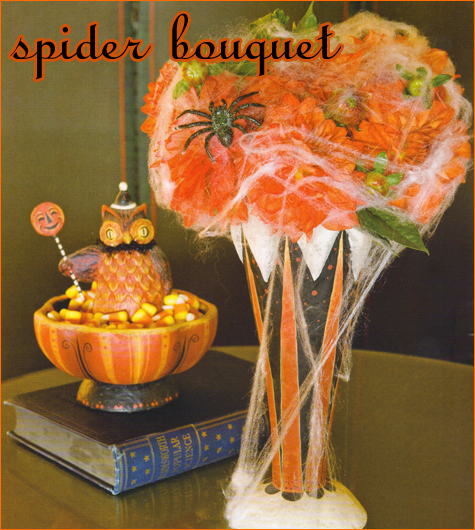 Things to Gather
Vase
Dahlias
Spiderweb material
Plastic Spider
Fill the vase with water, or insert a waterproof container inside a decorative container. Cut stems of dahlias to fit the vase. Apply the spiderweb material over flowers and down the sides of the vase. Position of the spider in a prominent place.
Mum's the Word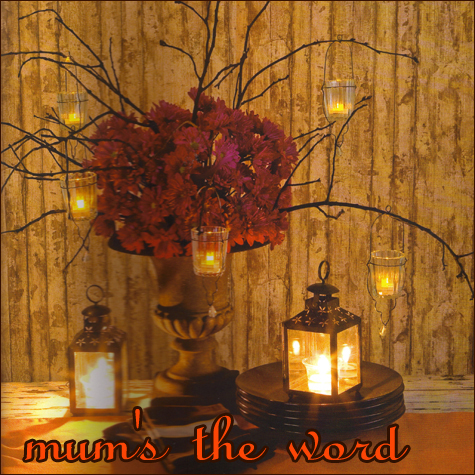 Things to Gather
Floral foam
Urn
Black spray paint
Tree branches
Mums
Hanging votive holders
Smart lights (battery operated tea lights)
Prepare floral foam by soaking it in water. Place the foam inside the urn. Paint the branches black, and let dry. Stick the branches into the foam. Fill the area between the branches with mums. Hang votive holders from the branches. Add tea lights.
Source:  Phyllis Hoffman Celebrate Halloween
Save