I simply love this time of year and everything about Autumn. A new love and favorite of mine for this season, are these yummy sticky Pecan Pumpkin Filled Pancakes.  They are the perfect treats to serve up  on a cool Autumn morning.  Filled with a luscious blend of cream cheese and pecan pumpkin butter they make the perfect companion for  a hot cup of coffee on cold morning.  If you're a lover of all things pumpkin and spice, you will fall in love instantly!
Here's the recipe.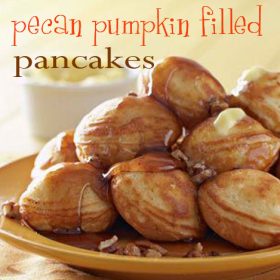 Ingredients
4 oz. cream cheese, at room temperature

1 cup pecan pumpkin butter

2 cups all-purpose flour

2 Tbs. sugar

1 tsp. baking powder

1 tsp. baking soda

1 tsp. salt

4 eggs, separated

2 cups buttermilk

4 Tbs. (1/2 stick) melted unsalted butter, plus more for cooking
Instructions
In a bowl, using a handheld mixer fitted with the beater attachment, beat the cream cheese on medium speed until softened, about 30 seconds. Add the pecan pumpkin butter and beat until smooth and well combined, about 45 seconds. Transfer the filling to a small bowl and refrigerate until ready to use.
In a bowl, whisk together the flour, sugar, baking powder, baking soda and salt. In a small bowl, whisk the egg yolks, then whisk in the buttermilk and the 4 Tbs. butter. Whisk the yolk mixture into the flour mixture until well combined.
In another bowl, using an electric mixer fitted with the whisk attachment, beat the egg whites on high speed until stiff but not dry peaks form, 1 to 2 minutes. Using a rubber spatula, gently fold the whites into the batter in 2 additions.
Put 1/2 tsp. butter in each well of a filled-pancake pan. Set over medium-low heat and heat until the butter begins to bubble. Pour a heaping 1 Tbs. batter into each well (fill to just below the edge of the well). Cook until the undersides begin to set and turn light golden brown, about 1 minute. Using 2 wooden skewers, tilt each pancake at an angle on one edge, allowing some of the batter to flow out. Put 1 tsp. pecan pumpkin filling inside, on top of the uncooked batter, and cook for 30 seconds to 1 minute.
Using the skewers, tilt the pancakes again, allowing the remaining uncooked batter to flow out and enclose the filling in the center. Continue cooking the pancakes until they are evenly golden brown on all sides, turning them over if needed, 2 to 3 minutes more. Repeat with the remaining batter and filling. Makes about 35.
Recipe courtesy of Williams-Sonoma
Enjoy!
celebrate life in style…