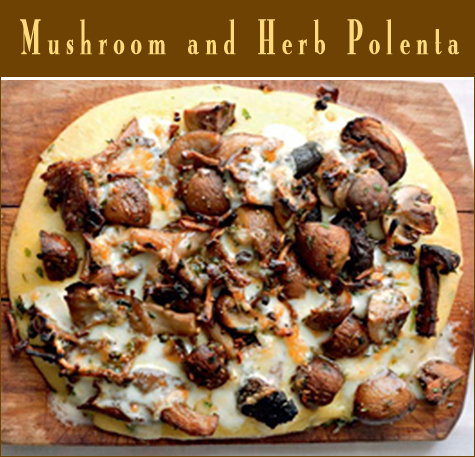 Here's a great recipe for spring and I will test it out on my husband for dinner tonight. Mushroom & Herb Polenta, not only does it sound delicious,  it looks delicious! The recipe is from the new book written by Yotam Ottolenghi, Plenty, Vibrant Vegetable Recipes from London's Ottolenghi and  calls for an abundance of fresh herbs, mushrooms and cheese. I plan to serve it along side a green salad and a white wine, which will make a perfect dinner for two.
Here's the recipe: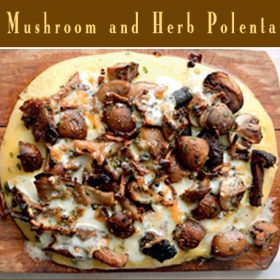 Ingredients
4 tablespoons olive oil

4 cups mixed mushrooms, very large ones halved

2 garlic cloves, crushed

1 tablespoon chopped tarragon

1 tablespoon chopped thyme

1 tablespoon truffle oil

Salt and black pepper

2-1/4 cups vegetable stock

1/2 cup polenta (instant or traditional)

3 oounces Parmesan, grated

2-1/2 tablespoons butter

1 teaspoon finely chopped rosemary

1 tablespoon chopped chervil

4 ounces Taleggio (rind removed), cut into 3/8-inch slices
Instructions
Heat half the olive oil in a large frying pan over medium-high heat. Once hot, add half of the mushrooms and fry for a few minutes, or until just cooked; try not to move them much so you get golden brown patches on their surface. Remove from the pan, and repeat with the rest of the mushrooms and oil. Off the heat, return all the mushrooms to the pan and add the garlic, tarragon, thye, truffle oil and some salt and pepper. Keep warm.
Bring the stock to the boil in a saucepan. Slowly stir in the polenta, then reduce the heat to the minimum and cook, stirring constnatly with a wooden spoon. The polenta is ready when it leaves the sides of the pan but is still runny. If you are using instant polenta this shouldn't take more than 5 minutes; with traditional polenta it could take up to 50 minutes (if it seems to dry out, add some more stock or water but just enough to keep it at a thick porridge consistency).
Preheat the broiler. When the polenta is ready, stir in the Parmesan, butter, rosemary and half the chervil. Season with salt and pepper. Spread the polenta over a heatproof dish and top with the Taleggio. Place under the broiler until the cheese bubbles. Remove, top with the mushrooms and their juices, and return to the broiler for a minute to warm.
Enjoy!
celebrate life in style…