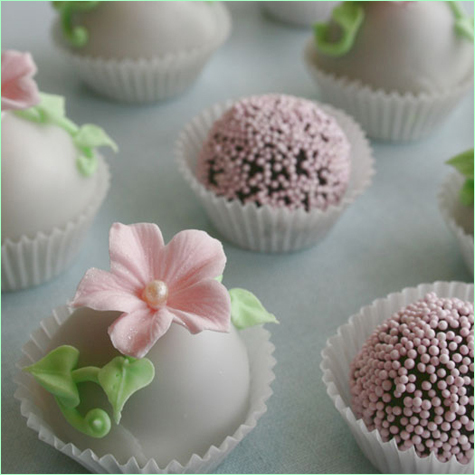 It's winter and cold outside and we have some spring brides that are in need of some inspiration for their upcoming nuptials. How about some wedding inspiration in the way of some beautiful and stylish spring DIY wedding favors! We have some lovely DIY favors that are easy to make, will impress your guest and allow you to give your  guest a favor that is handmade with love.
Above are some impressive cake bites from Cake Journal –  how precious are these. Easy to make and very much in the theme of spring with beautiful pink flowers and sprinkles. Place these little cakes in paper cups these small cake bites will be a perfect wedding favor.  For more DIY spring wedding favors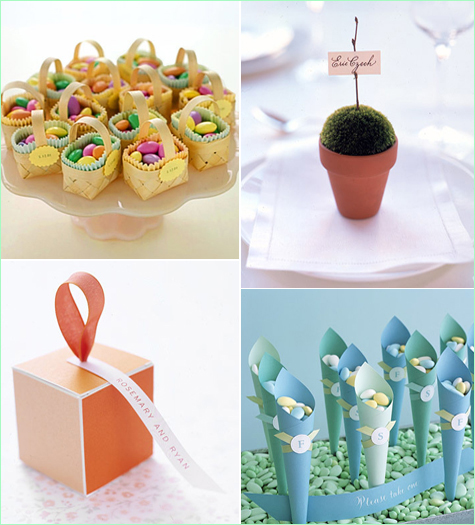 Almond Baskets Wedding Favors: Let guests tote away sweet almonds in tiny baskets. Line each with colored mini paper liners, and then fill with Jordan almonds. Use liners and nuts that complement your color scheme. Label baskets with the wedding date. We printed the date on colored laser paper, then made labels with a special craft punch, and affixed them with double-sided tape.
Potted Place Card: Both place card and favor, these tiny terra-cotta pots with a dome of velvety moss are spare yet elegant against a pristine white table — perfect for a simple spring wedding.
Paper Cones: These whimsical dragee cones standing in a galvanized tray will delight even adults. Fill these elegant and whimsical cones with sugar-coated almonds, jelly beans, nuts or any delightful treat.
Color Block Favor Box:  Create a beautiful box for your wedding favors. Origami paper in shades of orange and an understated tag create a stylish favor.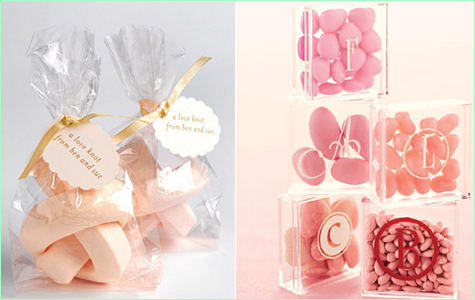 Marshmallow Favors:  These marshmallows are imported from Paris and, as you might suspect, they're not your typical campfire fare. They are long, pastel-hued, and quite pretty, especially when fashioned into love knots, time-honored symbols of commitment. Tie marshmallows into basic knots (to keep them from getting stale, don't leave them exposed to the air for too long), and place in cellophane bags. Make tags, cutting them out with a scalloped craft punch or shears. Punch a tiny hole in each tag, thread ribbon through, and tie around bags.
Sugar Rush Favors: Create a favor that your guest sweet tooth will love. Buy candy in bulk (try sites like economycandy.com or candywarehouse.com) and acrylic containers (get these from Container Store)  and and some swanky peel-stick monogram appliqués (Wonderful Graffiti) and you're all set to create some very pretty favors.
Okay spring brides, here you have some fun DIY projects that will keep you inspired for your wedding!
Enjoy.
celebrate life in style…