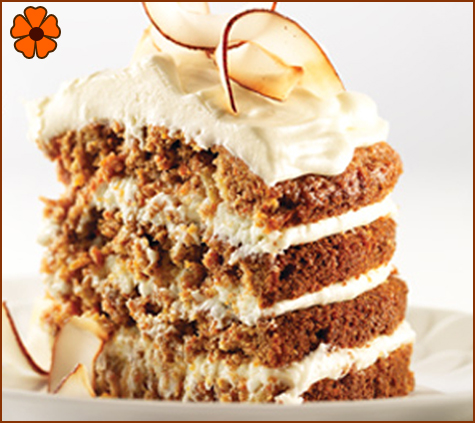 Yay, we happy that spring is finally here. We love all the seasons, but spring is definitely one of our favorites. Spring is a wonderful time to try out new recipes that allow you choose from the abundance of spring's delicious bounty. The Hawaiian Carrot Cake With Coconut Icing is the perfect recipe to start the season off with. The recipes calls for  coconut and pineapple which pairs great together to create some pretty tasty island flavor and the cake is great for a causal spring get-together of coffee and cake or serve it up after one of your fabulous dinner parties. However you present it, it will be welcomed.
Here's the recipe: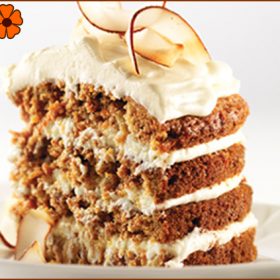 Ingredients
1 cup (250 mL) chopped canned pineapple

4 cups (1 L) grated carrot

2½ cups (625 mL) all-purpose flour

1 tbsp (15 mL) baking powder

2 tsp (10 mL) baking soda

1 tsp (5 mL) salt

2 tsp (10 mL) cinnamon

1 tsp (5 mL) nutmeg

1 cup (250 mL) butter, at room temperature

1¼ cups (300 mL) golden brown sugar

4 eggs

2 tsp (10 mL) vanilla

½ cup (125 mL) milk
Instructions
Preheat oven to 350°F (180°C). Spray or oil two 9-inch (1.5-L) round cake pans.
Finely chop drained pineapple, place in a sieve and press with a spoon to remove as much juice as possible. Grate carrots using a food processor. Measure out 4 cups (1 L) and set aside. Place flour in a large bowl. Sprinkle with baking powder, baking soda, salt, cinnamon and nutmeg. Stir until blended.
Place butter in a large mixing bowl and beat with an electric mixer until creamy. Gradually beat in sugar, then beat on medium for about 3 minutes. Beat in eggs, then vanilla. Beating on low speed, add about a third of flour mixture and beat just until mixed, followed by half the milk. Repeat additions, ending with flour. Batter will be very thick. Gradually mix in pineapple and carrots.
Divide between pans. Spread to pan sides. To remove air pockets, bang pans on counter 5 to 6 times. Bake until centers seem set when lightly tapped, from 40 to 45 minutes. Place on a baking rack to cool. After about 15 minutes, turn cakes out of pans and cool completely on racks. It's best to bake cakes a day ahead of icing and leave at room temperature overnight.
Notes
Garnish: For fresh coconut curls, break open a coconut (see below) and remove the meat from the shell. Leave the brown skin on if you like. Using a vegetable peeler, shave long curls from the largest piece of coconut. Spread curls out on a foil-lined baking sheet. Place in a 300°F (150°C) oven until they dry a little and curl. Watch closely since this will happen in 5 to 6 minutes and then they can burn quickly. To open a coconut, penetrate through the softest of three "eyes" at the end of the coconut with a screwdriver, drain the water and place the shell in a 400°F (200°C) oven for 15 minutes to soften, then place in a towel and whack with a hammer until it breaks open.
Ingredients
2 pkgs (250 g each) regular cream cheese, at room temperature
1 cup (250 mL) butter, at room temperature
¼ cup (50 mL) sour cream or natural yogurt
1 tsp (5 mL) vanilla
2½ cups (625 mL) sifted icing sugar
1 cup (250 mL) sweetened flaked coconut
Instructions
Cut cream cheese into chunks. Place butter in a bowl and beat with an electric mixer until creamy. Beat in sour cream and vanilla. Reduce speed to low and beat in cream cheese, piece by piece. Beating too much will cause thinning. Add about a third of the icing sugar and beat on low until just mixed in. Scrape sides of bowl and beaters occasionally. Gradually add remaining sugar, beating just until smooth. If too thick or thin, work in a little sour cream or sugar. Remove about a quarter of the icing to be used on top cake layer and set aside. Stir coconut into the remaining icing.
Slice cakes horizontally in half. Place top of 1 cake, dome-side down, on a platter. Spread with a third of the coconut icing leaving a narrow border of cake around edge. Lay the bottom of that cake, cut-side down, on top. Spread with half the remaining coconut icing, leaving a narrow cake border. Top with the bottom half of the second cake, cut-side down. Spread with the remaining coconut icing, leaving a cake border. Top with the fi nal layer, cut-side down. Spread with plain icing right to the edges. Garnish with toasted, fresh coconut. Best to refrigerate several hours or overnight before serving.
Enjoy!
celebrate life in style…
Save