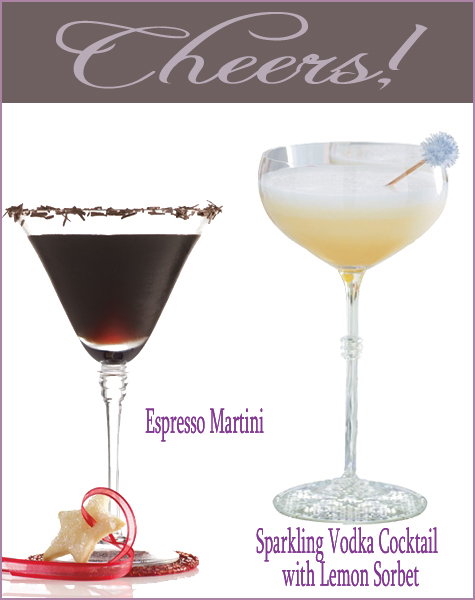 Well,  if it just hit you that you only have a few more days left to get New Year's Eve party menu together – don't panic. We have so delightful cocktails for you to add to your drink menu. Don't go overboard and drive yourself crazy trying to  come up with drink ideas, settle on a couple of signature drinks for the night and you're done. Here's some that you're guest will love.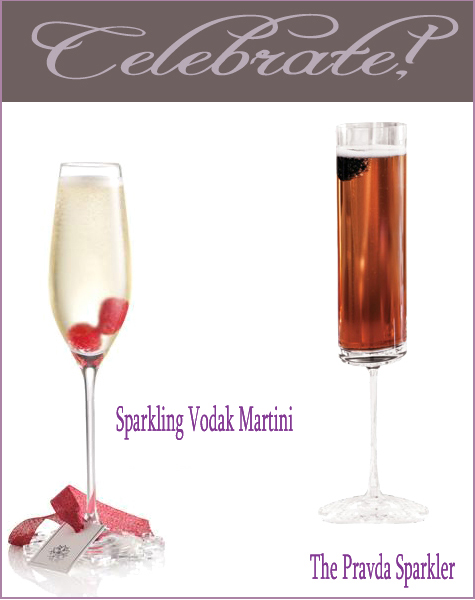 For the recipes
Espresso Martini
In a cocktail shaker filled with ice, add 1 oz. ABSOLUT® VODKA, 1 oz. Kahlua®, 3 oz. cold espresso and sugar to taste. Shake and strain into a chilled martini glass rimmed with chocolate shavings.
Sparkling Vodka Cocktail with Lemon Sorbet
2 cups frozen lemon sorbet
1/2 bottle chilled sparkling wine
6 tbsp (90 ml) vodka
6 tbsp (90 ml) whipping cream
Spoon the sorbet into a blender. Add the remaining ingredients and blend until smooth, about 1 minute. Divide among 6 Champagne glasses and serve immediately.
Sparkling Vodka Martini – I love this one, my favorite!
Pour 1 oz. of Premium Vodka into a chilled champagne flute. Fill rest of glass with sparkling wine. Garnish by dropping in a few raspberries or other available berries.
The Pravda Sparkler
Pour 1 oz. of Pravda Vodka into a tall glass filled with sparkling water. Add a splash of the Chambord liqueur (to taste). Stir well and garnish with a blackberry.
Recipe Source: LCBO
Cheers!
celebrate life in style…
Save