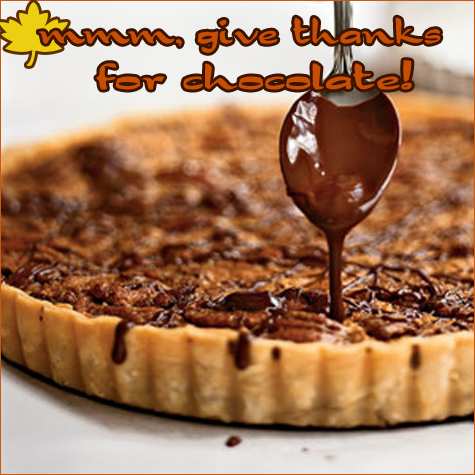 Okay, I know that Halloween is yet to come and we are still a month away from Thanksgiving, however I am a planner and it's never to early to start planning for Thanksgiving. Also I love to give you a peek of things to come,  so here are some delish dessert recipes for Thanksgiving I came across over the weekend.  I see it like this, you can start whipping these up for some practice and taste testing so when the BIG DAY arrives your desserts will be pure perfection.
The Bourbon-Pecan Tart with Chocolate Drizzle above makes me give thanks for chocolate. Pecan pie is delicious and sweet and with bourbon, molasses, and chocolate it is even taster and this will be the beautiful centerpiece of your dessert table. For some more delish desserts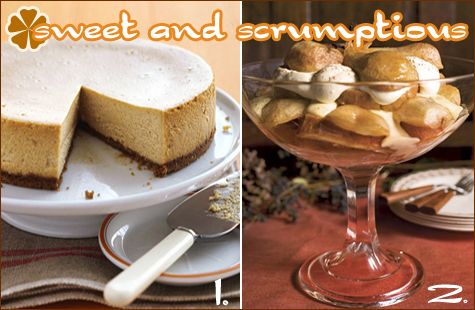 1.  Is a creamy moutherwatering Pumpkin Cheesecake from Martha Stewart.  Celebrate this year with a tasty pumpkin treat that is scrumptious and filled with spice.
2.   Treat everyone this year to a Roasted Pear and Maple Cream Trifle. It's easy to make and much of it can be made the day before. This trifle is rich, creamy and full of flavor.  Also you can make the dessert using pound cake or cookies.
3.   Pumpkin Ice Cream Pie with Chocolate-Almond Bark and Toffee Sauce, from Epicurious is  a definite crowd pleaser, I assure you.  This pie is amazing and better than pumpkin pie.  It's made with pumpkin, brown sugar, spices and vanilla ice cream, oh yeah this is a WINNER!
4.  From Sunset is a delight of a pie, Apple-Cranberry-Currant Pie with French Topping. Mmm, Mmm, good.  This pie is a delish twist to an apple pie. Apples, cranberries and currants, along with brown sugar this will be a holiday favorite.
5.    Pear and Ginger Upside-Down Cake.  This cake has brown sugar (brown sugar makes everything taste good!) and glazed pears on top of a moist ginger cake, and is a  fall inspired dessert that is another twist on favorite classic –  the pineapple upside down cake.
Okay, so start baking these up to test them out to see which one will make it to your Thanksgiving dessert table, be sure to let us know!
Enjoy.
celebrate life in style…
Save
Save
Save