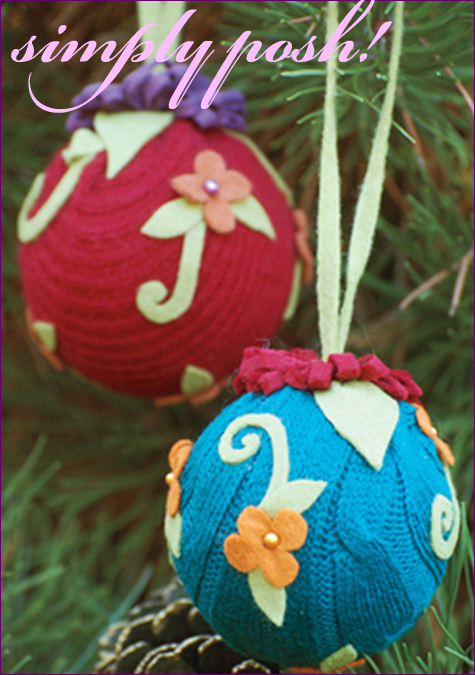 Simply stated these sweater ornaments are chic and posh! If you're looking for great way to recycle (keeping it green) creating these ornaments is a great DIY project.  You can embellish the ornaments with felt florals for ultra-quick holiday decor.
For the how on how to create these
You'll need
Surface & Embellishments
• STYROFOAM™ Brand foam ball, 3″ (Dow).
• Recycled sweaters.
• Felt in coordinating colors.
• Pearl-headed pins.
Tools & Supplies
• Yes! Paste™ (Gane).
• White craft glue.
• Pointed tool, such as nail scissors or needle tool.
• Pencil.
• Needle and strong thread.
• Large-eye ribbon needle.
How to create
1.   Using a sharp-point pencil, make a hole measuring about ¾" across and ¾"" deep in the center top of foamball.
2 .  Place ball on on sweater and pull fabric up overball, encasing it. Mark where the fabric meets with pins. Measure distance between pins. Cut out a circle that is ¼" larger than measurement.
3.   Using needle and strong thread, gather sweater circle about ¼" from edges. Place foam ball in center of circle. Pull gathers in tightly; tie off with strong knot.
4.   Place craft glue in hole in ball. Using pointed tool, tuck gathered edges of sweater fabric well down into the hole, securing with straight pins if necessary. You may want to trim away fabric as it stretches, which is fine. Work to tuck in all loose ends, leaving ball surface smooth and fabric evenly stretched.
5.   Using patterns, cut flowers from felt. Stitch a small "x" with needle and thread in flower centers, pulling thread tight to give dimensional interest. Paste flowers, stems and leaves to ball with Yes! Paste™. Push a pearl-headed pin into center of each small flower.
6.   To make fringe flower at top of ball, cut felt to 1¾"x3″ rectangle. Fold in half lengthwise; sew together along open edge using a gathering stitch, but do not pull tight. Cut ½" long snips into the folded edge every 1/8″ to create loops. Gather thread tightly to flair loops out into flower; knot securely.
7.   Cut ½" circle of contrasting felt; glue to fringe flower center.
8.   Cut 3/8″x9″ strip of felt to make loop for hanging. Thread strip through ribbon needle; thread ends of felt down through center of flower.
9.   Add craft glue to dimple in sweater fabric at top of ball. Glue ends of felt loop and bottom of fringe flower onto top of ball. Secure with pins until dry.
Enjoy!
celebrate life in style…
Save