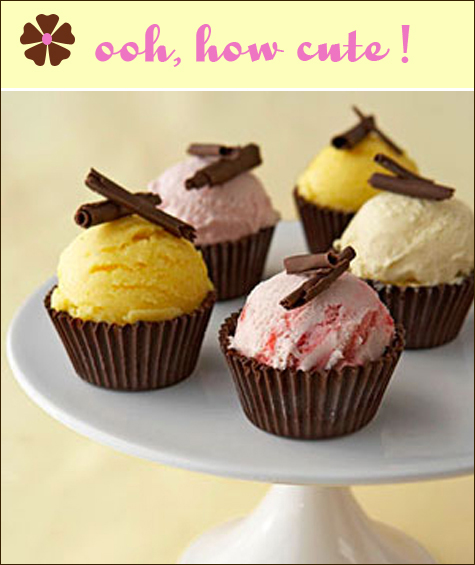 Simply irresistible is really the only way to describe these yummy chilly treats. Not only are they cool and refreshing, but these adorable desserts are just what the doctor ordered to beat the heat!  Also, these are ideal to serve at your next party. Not only will your guest find them delicious,  they will not be able to get over how cute they are.  Simple and very easy to make, they are bound to go over well with any age group. A definite crowd pleaser, because who would not enjoy having frozen chocolate cupcakes or frozen whoopie pies on a hot summer day!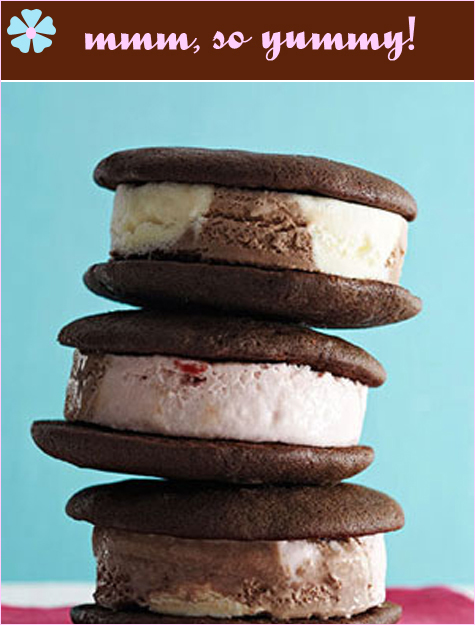 Ready to make some of these delish treats? Here's the recipes
Chocolate Cups
Servings: 12 filled chocolate cups
Ingredients
8 ounces semisweet chocolate, broken up (see Note)
1 tablespoon solid vegetable shortening
12 paper or silicone cupcake liners
12 scoops assorted ice cream and sherbet flavors
Chocolate curls, citrus curls or fresh fruit, to garnish
Preparation
1. Melt chocolate and shortening a medium-size microwave-safe bowl on high in microwave oven for 2 minutes, stirring halfway. Stir until smooth.
2. Using a small clean brush, spread about 2 teaspoons melted chocolate into bottom and up side of each cup. Chill cups until firm, about 10 minutes, reserving any extra chocolate.
3. Remove cups from refrigerator. Re-melt remaining chocolate in microwave for 20 seconds, if necessary. Reinforce any weak spots inside cups (especially near the rim) with melted chocolate. Return to refrigerator to set, about 20 minutes. (Cups can be prepared up to 2 days ahead; refrigerate loosely covered with plastic wrap or foil.)
4. To remove chocolate cups from paper liners: Loosen a top edge and peel paper away (it will rip apart, but still come off cleanly). For silicone liners: Pop out of liners by gently pressing on bottom of cups, and pulling away side of liner from chocolate shell.
5. To serve: Scoop 1 generous scoop ice cream or sherbet into each chocolate cup (cups can be filled several hours ahead and frozen, covered). Immediately before serving, garnish with chocolate curls, citrus curls or fresh fruit, if desired. Note: You may substitute milk or white chocolate for semisweet, depending on flavor preferences.
Frozen Whoopie Pies
Servings: 12
Ingredients
Ice Cream Filling:
1/2 gallon Neapolitan ice cream (in a rectangular container)
Cookies:
2 cups all-purpose flour
2 teaspoons baking powder
2 teaspoons baking soda
1/2 teaspoon salt
1 cup (2 sticks) unsalted butter, softened
1 cup packed light-brown sugar
2 eggs
1 teaspoon vanilla extract
1/2 cup cocoa powder
3/4 cup milk
Preparation
1. Ice cream: Cut packaging from ice cream. Slice ice cream crosswise into 6 slices, and place on 2 small baking sheets. Freeze 1 hour.
2. Heat oven to 375 degrees F. Line two large baking sheets with nonstick foil. Cookies: Mix flour, baking powder, baking soda and salt in bowl. Beat butter and sugar in second bowl until creamy. Beat in eggs and vanilla. On low speed, beat in cocoa. Beat in flour mixture and milk in 3 additions, beginning and ending with flour.
3. Drop 2 heaping tablespoons batter per cookie onto prepared sheets, spacing 3 inches apart. Spread into 21/2-inch rounds with the back of a spoon (keep size equal since they will be sandwiched).
4. Bake at 375 degrees F for 12 to 13 minutes or until cookies spring back when lightly touched in center. Cool on sheets 5 minutes. Remove cookies to rack to cool completely.
5. Remove one sheet of ice cream from freezer. Working quickly, cut circles of ice cream with 3-inch cookie cutter. Sandwich two cookies and one ice cream round. Save ice cream scraps for snacking. Repeat with all cookies and ice cream. Wrap in plastic and freeze assembled whoopie pies at least 1 hour or until ready to eat.
Recipe Source: Family Circle
Enjoy!
celebrate life in style…
Save