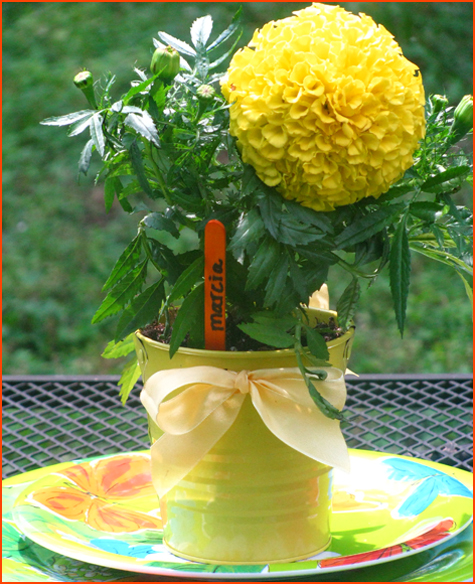 Let's start this week off with some  simple and easy entertaining inspiration, cute  DIY place settings and centerpieces.  Over the weekend I  was trying to come up with an idea for a cute centerpiece and easy place settings  for an outdoor dinner party we are having this week. So,  I looked in my backyard and this is what I came up with.  Simple but cute place settings that also serve as favors for our guest and a beautiful centerpiece of floating flowers.
Creating the place settings and favors is really simple. I found some flowers that were still in bloom in our backyard that could be replanted and potted.  If you don't have any flowers  in bloom in your flower garden, just pick some up at your local farmers market. You can also use planted herbs. Once you have your flowers of choice, place them in  small colorful  pots, you can get these from any craft store, I picked mine up from Target. Pack them with potting soil and finish by writing the name of each guest on a wooden craft sticks.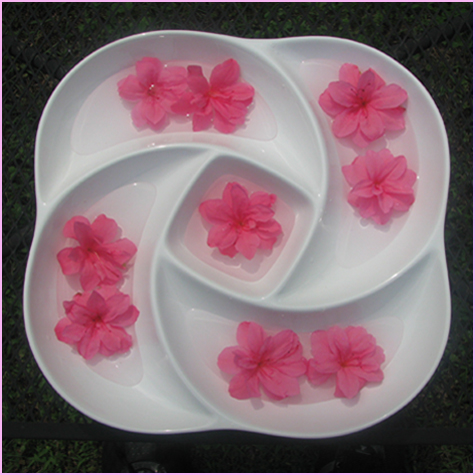 For the centerpiece, I choose flowers from our garden again and a white serving platter. Again, if you don't have flowers in bloom at your house, no worries you can get these from the farmers market as well. I cut flowers from them stem, being careful to keep the blooms in tact. Pour a shallow amount of water in the platter and float your flowers. Pretty simple right, and I love the look of this centerpiece.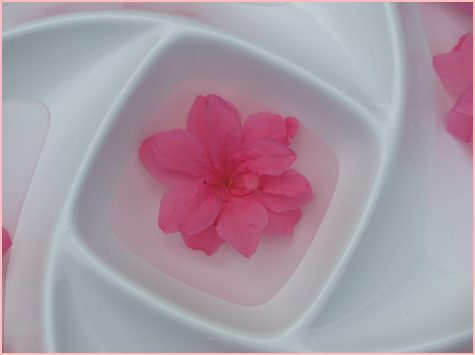 Both of these  projects will look fabulous on your outdoor table for your spring and summer dinner parties.
Enjoy the inspiration!
celebrate life in style…
Photo credit: Brad Fletcher