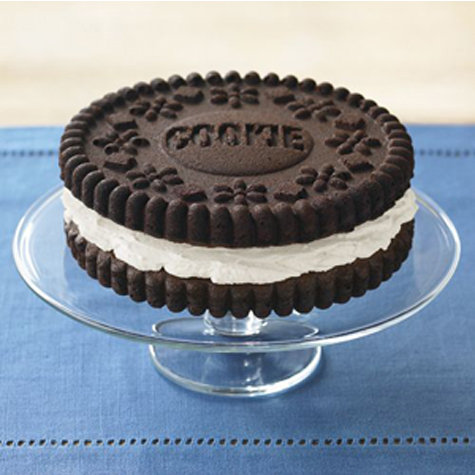 Williams-Sonoma has a cake pan that recreates the classic sandwich cookie. With the  Sandwich Cookie Cake Pan you bake a cake that has the word cookie on top and decorated ridges just like the cookie. You can create your cake just like the cookie classic, chocolate cake with vanilla cream or be creative and combine your own flavors to make a specialty sandwich cookie cake.
It seriously looks like the Oreo cookies we ate has a child, this will definitely take you back to your childhood.
The cake pan is cast aluminum and spreads heat evenly and it has William-Sonoma's exclusive Goldtouch coating, which ensures the cake does not stick to the pan and makes clean up quick and simple.  The Sandwich-Cookie Cake Pan is priced at $29.95, for the set of two.