This dessert should make it's debut on your Thanksgiving dessert table this year. The Pumpkin – Pear Crisps are everything that a Thanksgiving dessert should be. It's filled with seasonal pears and pumpkins plus it's packed with lots of brown sugar and all those great fragrant aromatic spices of the season. This dessert is the perfect combination of a delicious baked Streusel and Compote.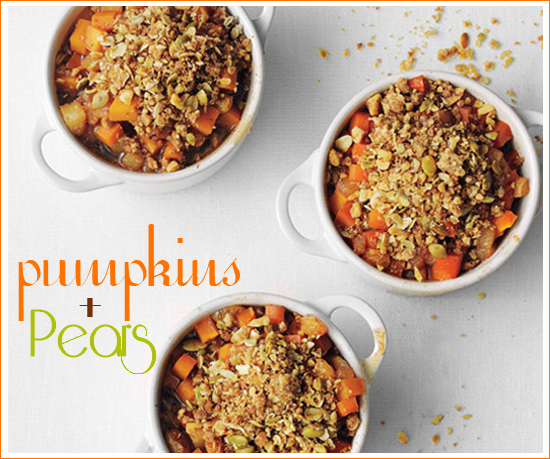 So, what do it think….it's worth a try right?
Here's the recipe: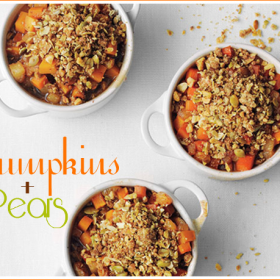 Ingredients
*Streusel*
1/4 cup old-fashioned oats
1/4 cup shelled pumpkin seeds (pepitas)
1/4 cup walnuts
1 large egg white
1/4 cup (packed) dark brown sugar
1/4 cup (1/2 stick) chilled unsalted butter, cut into 1/2" cubes
3 tablespoons unbleached all-purpose flour
3 tablespoons whole wheat flour
1/2 teaspoon ground cinnamon
*Compote*
2 cups 1/4" inch cubes peeled, seeded sugar pumpkin or butternut squash (about 1/2 lb)
1/4 cup pure maple syrup
1/4 cup golden raisins
2 tablespoons fresh lemon juice
1 tablespoon (packed) dark brown sugar
2 teaspoons ground cinnamon
1/4 teaspoon ground cloves
3 large pears (2 lb.), peeled, cored, cut into 1/4" cubes (4 cups)
1/2 teaspoon vanilla extract
Instructions
Special equipment: Eight 6-oz. ramekins or heatproof bowls
Streusel
Preheat oven to 375°. Bake oats, pumpkin seeds, and walnuts on a rimmed baking sheet until light golden, about 10 minutes; let cool. Transfer to a food processor. Add the remaining 6 ingredients and pulse until crumble forms. Spread on rimmed baking sheet; bake until golden and crispy, occasionally breaking up lumps, 18–20 minutes. Let cool.
Compote
Preheat oven to 375°. Bring first 7 ingredients and 1 1/2 cups water to a simmer in a large saucepan over medium heat. Cover and simmer until pumpkin is just tender, about 7 minutes. Add pears and vanilla; cook uncovered, stirring often, until pears are tender, about 10 minutes. Using a slotted spoon, transfer pumpkin-and-fruit mixture to a medium bowl. Simmer syrup in pan until reduced to 1/2 cup, 3–5 minutes
Arrange ramekins on a rimmed baking sheet. Divide compote among ramekins. Drizzle each with 1 Tbsp. reserved syrup.
Bake until filling is bubbling at edges, 25–30 minutes. Top with streusel and serve.
Enjoy!
celebrate life in style…