Pulled Pork Biscuit Sliders
Pulled pork and summer picnics go hand and hand, which is one reason why I am so excited about this recipe. The other reason for my excitement, which I am sure you have noticed, is that we are talking about Pulled Pork Biscuit Sliders, yes BISCUITS. Who wouldn't like to have a biscuit filled with yummy juicy pork , bbq sauce and coleslaw? These little darlings are a definite change from the ordinary BBQ slider. They're easy to make, your slow cooker does all the work, they're filling and will be a hit at your picnic.
Here's the recipe.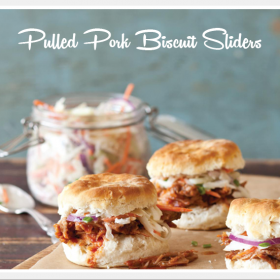 Ingredients
2 cups ketchup

1 cup firmly packed brown sugar

¾ cup apple-cider vinegar

2 tablespoons Worcestershire sauce

2 tablespoons smoked paprika

1 teaspoon dry mustard

1 teaspoon garlic salt

1 teaspoon ground black pepper

1 (3-pound) boneless pork shoulder

12 prepared biscuits cut in half

1 cup prepared coleslaw
Instructions
In a medium saucepan over medium high heat, combine ketchup, brown sugar, vinegar, Worcestershire, paprika, mustard, garlic salt, and pepper.
Cook until sugar dissolves and sauce is hot, about 4 minutes, stirring constantly.
Place pork shoulder in the inside of a 6-quart slow cooker; pour sauce over meat.
Cook on high for 2 hours; reduce heat to low, and cook for 6 hours, or until meat is tender.
Remove pork from slow cooker, and place on rimmed baking sheet.
Using a fork, shred pork into small pieces.
Pour sauce from slow cooker into a medium bowl, and set aside.
Return pork to slow cooker, and add just enough sauce to coat.
Turn slow cooker to warm until ready to serve. Refrigerate remaining sauce until ready to serve.
Place about 1/3 cup of port on the bottom half of each biscuit; top with about 2 tablespoons of coleslaw and remaining of the biscuit. Serve with additional sauce.
Source – Celebrate Magazine, Outdoor Entertaining
Enjoy!
celebrate life in style…
Save
Save
Save
Save
Save
Save