Take the time this year to enjoy the bounty of the fall season and mix up a batch of creamy pumpkin soup. Pumpkin soup is a comfort food, it always reminds me of my childhood and the precious moments we shared around the dinner table. Made with pumpkin, sweet potatoes and flavorful spices this will be a welcome treat on any fall afternoon or as a starter for your fall dinner party menu, either way this soup will not disappoint.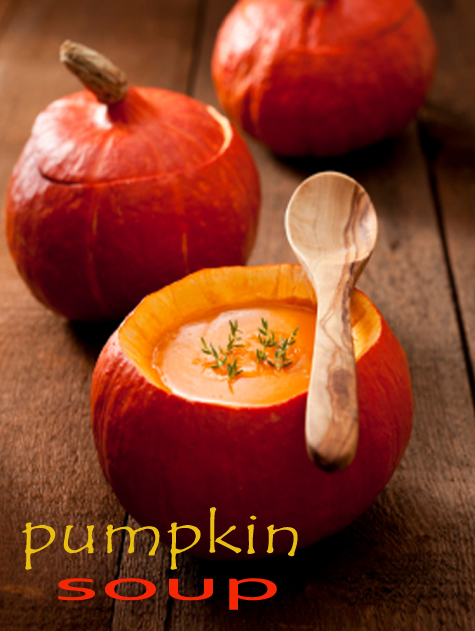 Here's the recipe.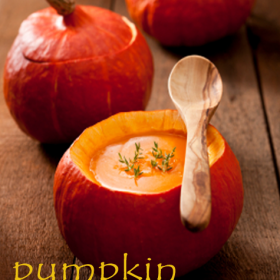 Ingredients
1 medium onion, chopped

2 tablespoons butter or margarine

2 (14.5 ounce) cans chicken broth

2 cups sliced peeled sweet potatoes

2 cups canned cooked pumpkin

2 cups milk

1/2 teaspoon ground nutmeg

1/2 teaspoon salt

1/4 teaspoon pepper

1/4 teaspoon ground ginger

pinch of ground clove

1 cup sour cream

1 tablespoon chopped fresh parsley

3 bacon strips, cooked and crumbled
Instructions
In a large saucepan, saute onion in butter until tender.
Add the broth, sweet potatoes and pumpkin; cook until the potatoes are tender, about 15 minutes.
Remove from the heat; cool. Puree half of the mixture at a time in a blender or food processor until smooth; return all to the pan.
Add the milk, nutmeg, clove, ginger, salt and pepper; heat through.
Meanwhile, combine the sour cream and parsley.
Spoon soup into bowls; top each with a dollop of sour cream and sprinkle with bacon.
Enjoy!
celebrate life in style…