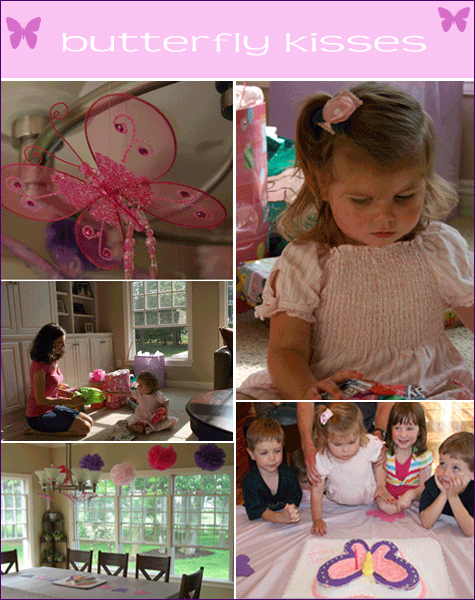 Here's a butterfly theme that will make your child's next birthday memorable. I absolutely love it and it is so cute!  This real party comes from Renée Jent over at the Busy Bee Paperie and it is simply adorable.  So, are your curious to what was Renée's  inspiration for this butterfly birthday party theme? Well, with Renée  having three little boys she doesn't get to use much pink around her home, so when her sister asked her to help with her niece's 2nd birthday party she was super excited! They started by choosing an adorable pink and purple butterfly theme, that I must say suited the beautiful birthday girl very well. She then contacted Gretchen of Chichiboulie, (a very cute online boutique that has some fabulous gift ideas) to ask if she could provide some wonderful artwork for the cute butterfly invitations.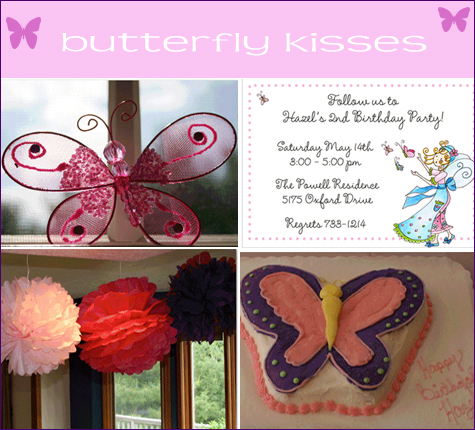 Gretchen did a fab job on the invitations, I mean seriously how perfect are these whimsical invitations! The butterfly themed party also gave Renée an opportunity to make these adorable tissue paper peonies which were beautiful during the party and now add to the decor in her niece's playroom.
With a delicious and picture perfect butterfly cake and pink butterfly decor,  all in all we can say it was a party fit for a special little girl!
So are you loving this butterfly themed birthday party and and ready to create your own,  well here are the the details, happy planning and be sure to share you ideas with us!
Invitation custom made by Busy Bee Paperie & Chichiboulie
Tissue Paper Peonies made with help from Martha Stewart
Cake from Pat A Cakes and Cookies Too
Beaded Butterfly Decor from Hobby Lobby
Thanks Renée for the inspiring idea!
celebrate life in style…
Save