Well, can you believe it, the holidays are just around the corner, so it's time to get the ball rolling on planning your holiday dinners and parties. To help you out we have our posh picks and must-haves for a successful and fun filled holiday entertaining season. With these cool picks you will be the hostess with the mostess and your guest will celebrate the holidays in style!
To get us started are our posh picks for your Thanksgiving entertaining (starting on the bottom left):
Harvest Leaf Salad Plate & Dipping Bowls – Very unique style and crafting and the salad plate and dipping bowl will go great with white dinnerware. These are the perfect fit for your Thanksgiving table.
Dorata Dinnerware – Beautiful crafted dinnerware and serve-ware  to compliment your Thanksgiving table. The gold leaves are the perfect accent for this set and for the season.
Pumpkin Candles – Okay, how adorable are these little candle pumpkins? It's market-fresh fall candlelight. These cute little plump pumpkins will light up your home with decorative seasonal appeal.
Mini Indian Corn Vase Filler – A must have for your Thanksgiving decorations. The vibrant colors are outstanding!
And for our posh picks for Christmas,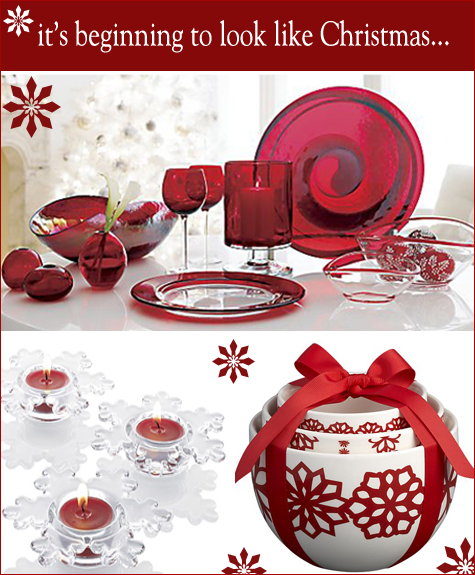 Caldera Collection – Impress your guest this Christmas with this stunning collection of fiery red dinnerware.  Very festive and perfect for the holiday season.
Snowflake Candleholder – When you scatter these sparkling snowflake candle holders around your home you will definitely set a holiday mood for Santa and everyone else.
Snowflake Bowls – OMG, how cute are these bowls! With a bold and whimsical red design they scream Christmas. These are perfect for your use around the kitchen for the holiday season and will also make a great gift.
More posh picks for your Christmas entertaining, these are must-haves for spreading Christmas cheer!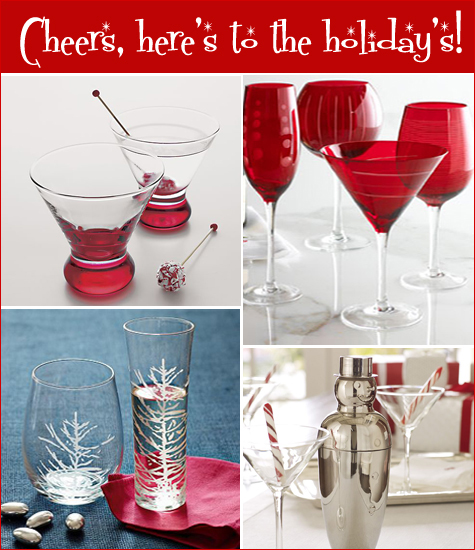 Winter Trees Drinkware – Toast to the holiday season with these elegant stemless glasses that are decorated with frosty winter trees, how posh!
"Cheers" Stemware – Fun and whimsical designs that are cheerful in color, this glassware will add a festive touch to any holiday gathering!
Peppermint Cocktail Stirrers – Oh, how yummy! Let your guest stir in fresh peppermint flavor in their cocktails with these festive, decorative and delicious "lollipops" on wood sticks.
Snowman Cocktail Shaker – Complete with buttons and a classic top hat, this well-attired Snowman Cocktail Shaker will make a jolly addition to your holiday bar.
Ring in the New Year with these posh must-haves!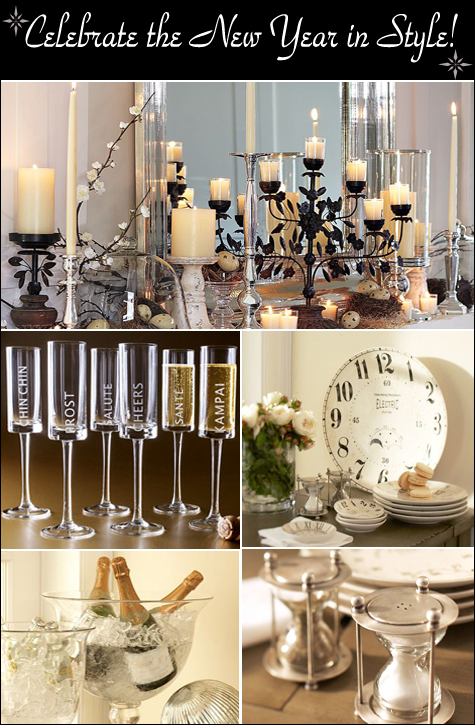 Addison Party Bucket – Keep it on ice and in style with a sleek and chic party bucket.
"Celebration" Champagne Flutes – Raise the glass and start the New Year off with a toast, in six different languages. How cool is that!
Vintage Clock Serving Platter – Count down to the New Year by serving your guest with vintage serve-ware. This platter will definitely add some whimsical fare to your holiday entertaining.
Hourglass Salt & Pepper Shakers – Nowhere are these shakers more appropriate than on your New Year's Eve table, when every shake gets you closer to midnight. I love these!
Okay so there you have it, our posh picks and must-haves for your holiday entertaining this season.
Enjoy!
celebrate life in style…
Save