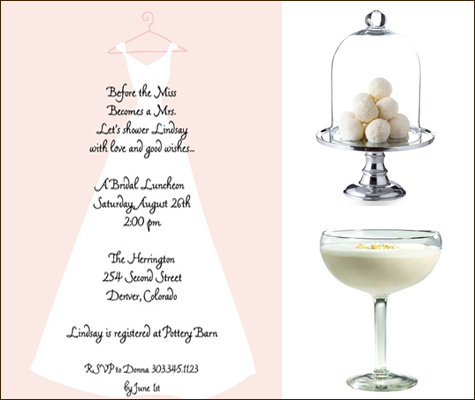 Get inspired with this white palette for your winter bridal shower.  This will be a classy and elegant affair for sure and if you're lucky enough to have real snow in the background it will breathtaking. The bride to be will love it!
Here's what's on the inspiring white winter theme board counter clockwise:
Sweet Wedding Dress Invitations are simple and classic. How pretty is this bridal shower invitation with the white wedding dress on a hanger with a background, I love it and and you can get these and the matching thank you notes from our friends at Wedding Paper Divas.
Sweet Snowballs are coconut-covered ice-cream balls that can be served for dessert.
White Bridal Shower Cocktail an easy and tasty cocktails that ties in with the chosen color palette.
For more bridal shower inspiration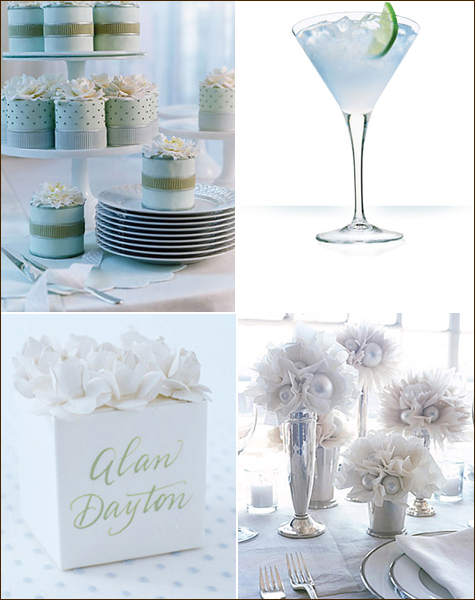 Individual Petite Cakes covered in pistachio fondant with mint Swiss dots, topped with a white sugar rose or peony, how elegant!
A White Cointreau Cosomopolitan is another for a white signature cocktail.
Tissue-Paper Winter Centerpieces is a good option to use in the winter to create a beautiful centerpiece, since fresh blooms are harder to come by. This adorable centerpiece will bring a touch charm and whimsy to the bridal shower.
Flower Top makes for a perfect and simple favor box.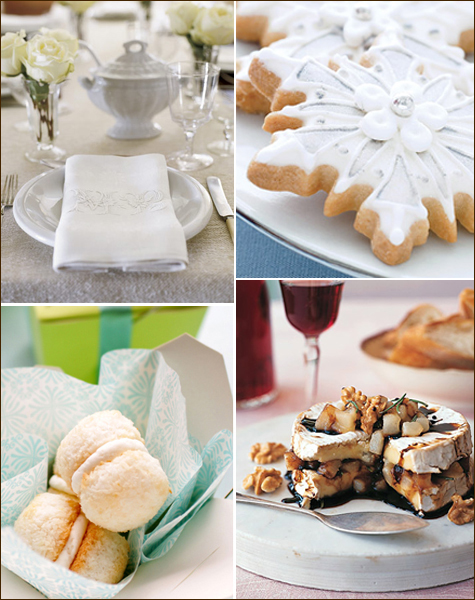 All White Table Setting will give a feeling of luxury, paired with embroidered cloth napkins, white dishes, and white roses in glass vases.
Sugar Cookie Favors will make a delightful treat for the ladies, these are so cute!
Add Pears and Camembert to menu to serve.  It's a scrumptious appetizer that has a honey and balsamic vinegar glaze, Yum.
Coconut and Lemon Creme Balls is another delish idea to give a tasty favor.
Enjoy the winter white wedding inspiration and stay inspired!
celebrate life in style…