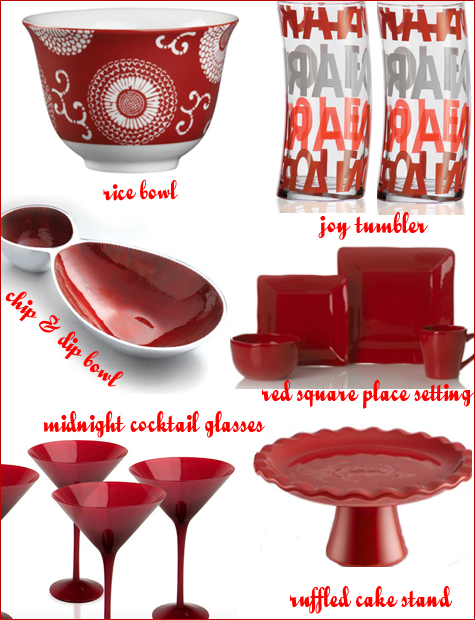 Happy Monday and hope that you enjoyed your weekend! To kick off the month of February, we would like to inspire you with a little "Red and White Table Love".  Alone the color red makes a bold and fiery statement, but mixed in with splash of white here and there, it makes the perfect color palette for a stunning and beautiful table top. Here are some beautiful pieces we found to inspire and get you creative juices flowing.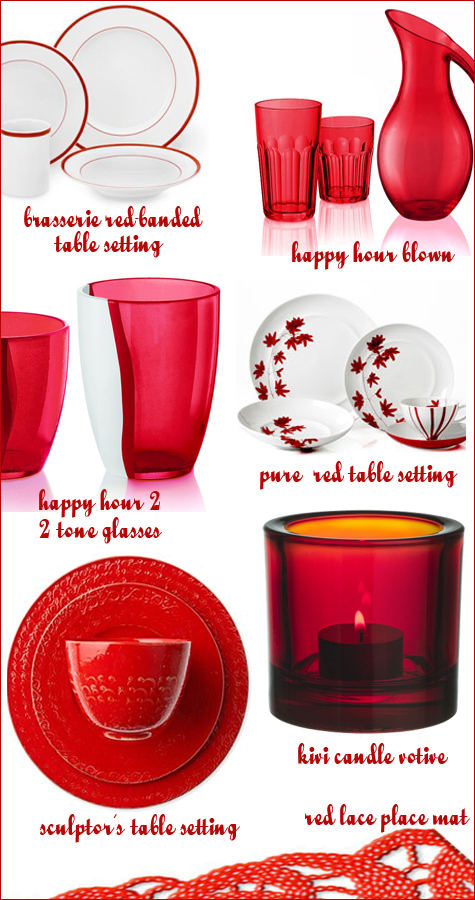 Are you inspired to set a table with red and white table love? Here' s where to find these items:
Crate and Barrel – Red Rice Bowl
Red Candy –  Joy Tumbler, Define Red Chip & Dip Bowl, Midnight Cocktail Glasses, Guzzini Happy Hour Blown Jug,  Guzzini Happy Hour Two-Tone Glasses and Red Lace Place Mats
Mikasa – Pure Red 5 Piece Placesetting and Brava Red Square 4 piece Placesetting
Anthropologie – Sculptor's Dinnerware
Williams-Sonoma – Emile Henry Ruffled Cake Stand and Brasserie Red-Banded Porcelain Dinnerware Place Settings
Iittala – Kivi Candle Votive
Enjoy!
celebrate life in style…