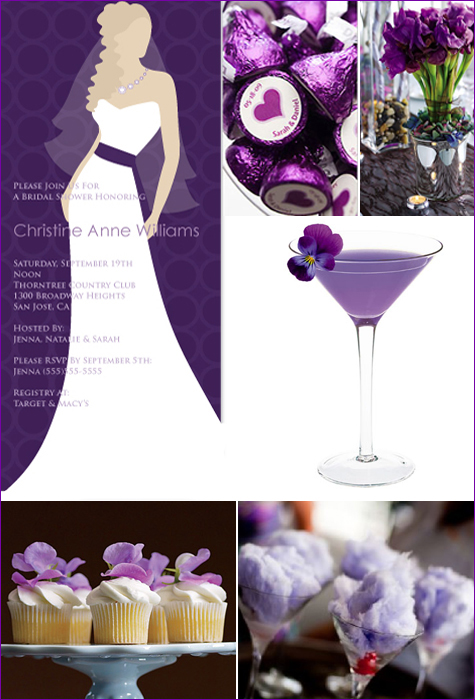 How spectacular and beautiful is this Purple Bridal Shower Inspiration Board!  We are so in love with this inspiration board. Don't you love the color purple, there is something so very regal about it and it makes a stunning color for a shower for the bride to be.
Here's what's on the inspiring purple board counter clockwise:
Bridal Silhouette Purple Invitations set a sophisticated tone for the bridal shower.
Personalized HERSHEY'S® Kisses are perfect bridal shower favors.
Violet Femmes bunches of irises wrapped with sheer ribbon and placed in Mexican mirrored glass containers.
THe Cointreau Teese delicious purple bridal shower cocktails.
Purple Cotton Candy as bridal shower favors, how cute is this!
Tower Power Cupcakes these dainty delights dressed up with sweet peas stack up nicely for a scrumptious dessert.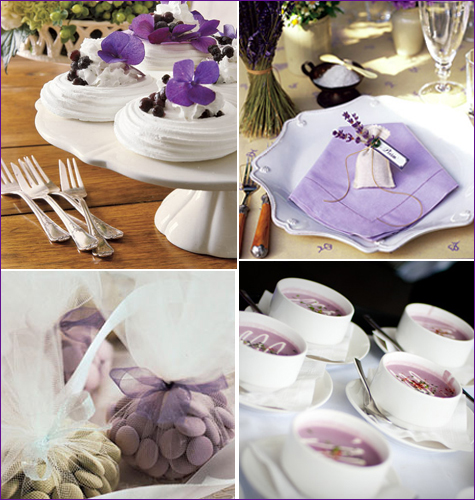 Cream-Filled Meringues a beautiful and light dessert, garnish whipped-cream-filled meringues with blueberries and violets, an edible flower.
Purple Herbal Elegance an adoring place setting with a lavender sachet with sprigs of fresh lavender, a vintage button and twine.
Create a purple menu that includes natural food courses like purple cauliflower, how cool is that and how impress would the brides guest be…
Tulle Wrapped Candy,  bridal shower candy favors (easy and great DIY project).
Enjoy the wedding inspiration and stay Inspired!
celebrate life in style…