Well, the other day when I was over at the Neiman Marcus site swooning over their delectable chocolate collection, I also found these gorgeous new pieces that Neiman's has that will inspire you to create some very stylish and chic table tops.

For a Classic and Elegant Table Top:
The Beaded Place Mats & Embroidered Linen Napkins & Napkin Rings. Simply stunning! The beaded cotton place mats and "spider burst" napkin rings are handmade, with white linen napkins that have an embroidered neoclassical border. You can choose Orange, White, or Fuchsia for place mats; and Orange, White, or Pink for napkin rings.  I am loving this set.
Four Orchid Bottle Stoppers are beautiful cast resin lily bottle stoppers with rubber O-ring and perfect for conserving your favorite wine or olive oil. Available in brilliant colors of yellow, purple, aqua, and magenta.
Gittleman Global "Antique Lace" Flatware is a Neiman Marcus exclusive. It's a highly distinctive flatware pattern that features pierced handles of antiqued, silver-plated brass, which makes it perfect for an elegant table setting.  For more stylish table top ideas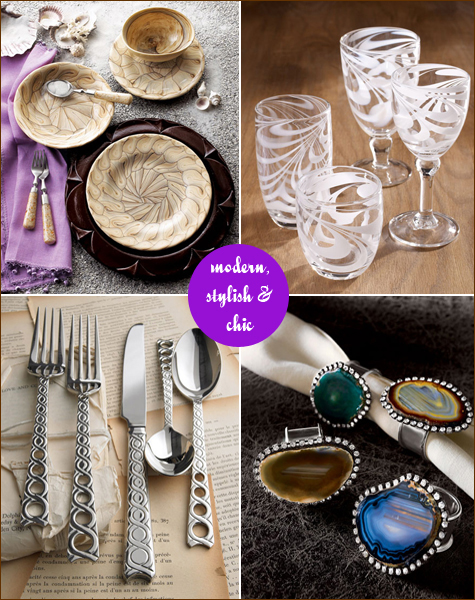 For a Modern Chic Table (starting bottom left):
This beautiful "Pierced Weave" Flatware Service has a unique pattern and will give the table a swanky feel.
The "Intarsia" Dinnerware set is breathtaking. The dinnerware is organic shapes of shell-inspired glass in hand-mixed hues of brown and ivory.
Add some modern drinkware to table in the from of Neiman's   "Swirl" Drinkware. The swirling patterns  will bring a pleasing and fun kaleidoscopic effect to the tablescape.
Go for these stylish Geode Napkin Rings to impress your dinner guest and to round out your modern and chic table,  aren't they beautiful?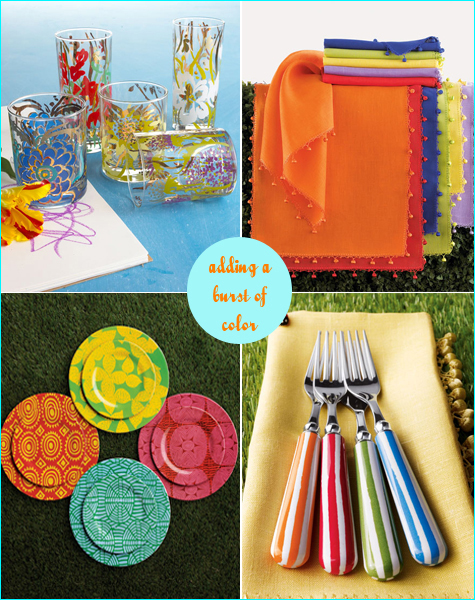 For a fun and colorful palette here's some bright ideas (starting bottom left):
"Isis" Dinnerware: This dinnerware collection gives a nod to Africa with a burst of color and unique handcrafted patterns, it's melamine by French Bull, love it!
Lovely Floral Drinkware with bright colorful patterns will add fun and delight to a whimsical tablescape.
"Pompon" Napkins are brightly colored handcrafted of linen with pompon edging, that will add a flair of style to any table.
From some stripped fun, add in the "Bateau" Flatware Service Set,  it's bursting with bright color.
There you have some pretty inspiring ideas to create some stylish table tops. Which is your favorite?
Enjoy!
celebrate life in style…