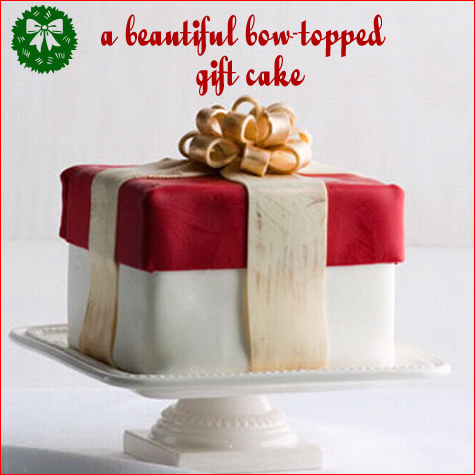 Have a Domestic Diva on your Christmas list that's been very good but having a hard time figuring out just what to get her? Well no worries and look no more because we have rounded up some pretty stylish and awesome gifts that any domestic diva will absolutely love!
Need a great hostess gift for the diva? Surprise her with an entirely edible gift that will also make a beautiful centerpiece for her table. The Bow-Topped "Gift" Cake with its red "lid" and satin "bow" will have everyone talking. Inside, is a chocolate decadence cake with coffee hazelnut praline buttercream, yummy! For more great fab Domestic Diva gifts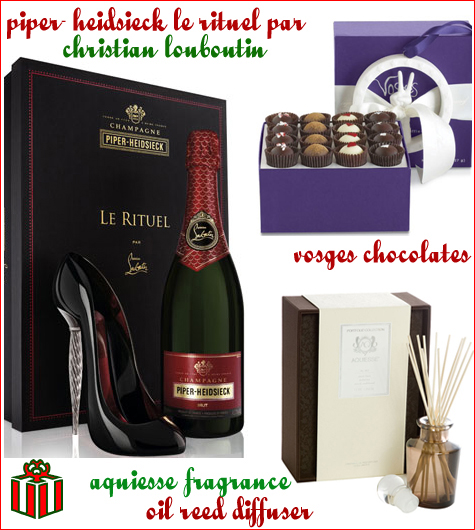 In 19th century Russia, gentleman patrons celebrated a ballerina's triumphant performance by raising her champagne-filled slipper in a toast. Raise a glass to toast in celebration to your domestic diva this holiday season with a glass of champagne from Piper-Heidsieck Le Rituel par Christian Louboutin. A marvelous crystal stiletto champagne flute by the master shoe designer stands on a translucent sole saturated by his iconic red hue of seduction, which perfectly pairs with the renowned red label of Piper-Heidsieck Brut in this extraordinary gift set, your diva will love!
Decadent and Yummy, defines the unforgettable gourmet chocolates from Vosges. The SoHo-based chocolate company is known for its milk- and dark-chocolate bacon bars, that are surprisingly delish and addictive. Vosges serves up Holiday Truffle Collections with flavors such as Mascarpone and Ceylon Cinnamon Snap, Holiday Plum Pudding, Candy Cane Peppermint, and Eggnog and Jamaican Rum. This has hostess gift written all over it.
Aquiesse defines sophisticated, indulgent ambiance by inspiring the emotions evoked through the bounties of nature. Not only will she enjoy the beauty of the Aquiesse™ 'Portfolio Collection' Fragrance Oil Reed Diffusers, she will fall love with the delectable fragrances designed to scent any room.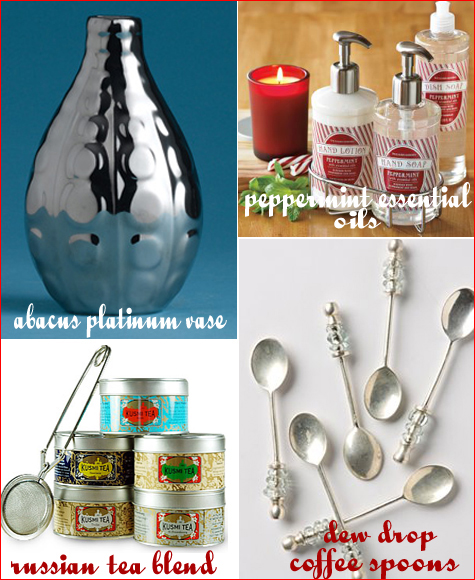 When you arrive with Jonathan Adler's Platinum Belly Vase as a gift for your diva hostess she will be very thankful. Not only have you given her a very stylish gift, now she does not have to look high and low for the perfect vase for the elegant flowers she will receive!
A tea lovers delight, and if she is a self-professed tea lover and she haven't tasted a Kusmi, don't make her wait any longer. Kusmi is a unique collection of Russian teas, that is famous worldwide for delicate blends, perfumed only with scents from Grasse, France, a renowned flower center.  Kusmi teas have earned a loyal following among discriminating tea drinkers, I promise you she won't be disappointed.
Williams-Sonoma Essential Oils Collection, Peppermint is a favorite for the holidays. The collection blends cool and refreshing peppermint oil with basil and eucalyptus. She will love the scent of this and so will her holiday guest.
How adorable are these Dew Drop Coffee Spoons from Anthropologie. A trio of mouthblown glass beads hovers within each of these graceful silver utensils. When she uses these at her next party, she will WOW her guest, as they will want to have their own set.
Is the Domestic Diva a Fashionista as well? Here's the perfect gift – Prada: The Book. You will forever be in her good graces once she receives this book that chronicles one of the most well known fashion houses in world. Prada has a very rich and legendary heritage, after all  it's been around since 1912. There are 3,885 fashion thumbnails  photos of the "looks" at Prada runway shows since 1987, plus much much more ! How fabulous is that. Simply stated she will LOVE this book ( and so will I)!
Hope we have inspired you with some fab gift ideas for your domestic diva and diva hostess for the holiday season.
Enjoy!
celebrate life in style…