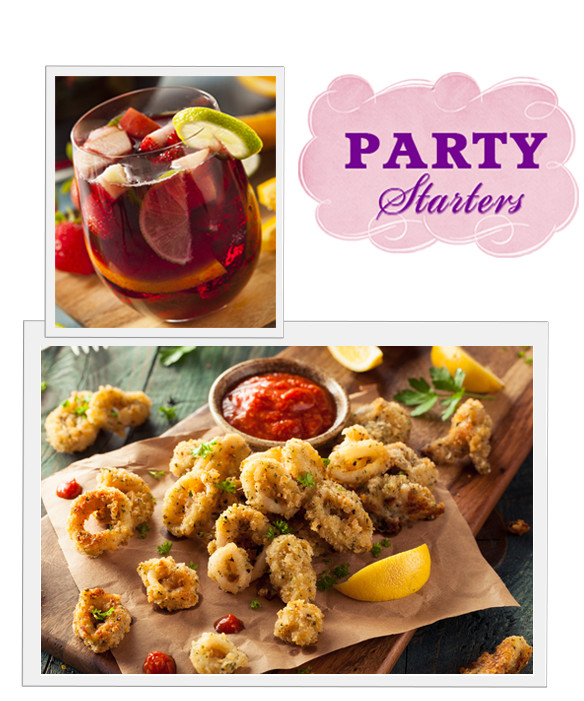 Sangria and Calamari pairs great together and are the perfect starters for any summer party. I know calamari is normally a dish that you order when you're out at a restaurant, and you probably think that it's really difficult to cook up a batch at home. Not true. Frying calamari is as simple as cutting up the squid into ringlets, dipping it into a spiced flour mixture and frying it up. Which makes it simple, easy and delicious.
The second and just as important component to this week's party starter is Sangria! I love sangria and it is often my go to cocktail for the summer season. The combination of the fruity flavors makes it a must-have summer refresher. I mean seriously, what could be better than an ice cold glass of sangria with pieces of fruit that has been soaked in booze! Another great thing I love about sangria is that you can use whatever fruit is in season, which gives you a wide variety of options and also makes it a very versatile cocktail mix up.
So, why not offer up this dynamic duo at your next gathering, it's guaranteed to get your party started on the right note.
Here are the recipes.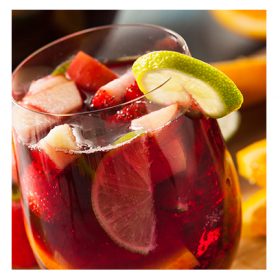 Ingredients
Vegetable oil, for deep-frying

1 1/2 pounds squid, cut into rings

2 cups of buttermilk

Dashes of hot sauce

2 cups all-purpose flour

1 teaspoon salt

1 teaspoon ground black pepper

1 teaspoon of garlic powder

1 teaspoon dried oregano

1 teaspoon dried parsley

2 lemons, cut into wedges

1 cup of marinara sauce, warmed
Instructions
Stir buttermilk and hot sauce together in a large bowl or shallow pan. Soak squid in buttermilk mixture for 30 minutes.
Heat oil over medium heat to 350 degrees F.
Combine flour, salt, pepper, garlic, oregano, and parsley in a large bowl.
Remove the squid from the buttermilk mixture and in small batches toss in the flour mixture to coat completely.
Carefully add the squid to the oil and fry until crisp and very pale golden, about 1 minute per batch. Do not over-crowd the pan when frying. Using tongs or a slotted spoon, transfer the fried calamari to a paper-towel lined plate to drain.
Serve immediately with lemon wedges and marinara sauce for dipping.
Ingredients
2 bottles red Spanish table wine

1 cup brandy

1/2 cup triple sec

1 cup orange juice

1 cup pomegranate juice

1/2 cup simple syrup, or more to taste (equal parts sugar and water, heated until sugar dissolves, cooled)

Orange slices

Apple slices

Blackberries

Pomegranate seeds
Instructions
Mix all ingredients together and let stand in a tightly sealed container or pitcher for at least 24 hours in the refrigerator before serving.
celebrate life in style…
Save
Save
Save
Save