We are getting our party started this weekend with Dirty Vodka Martini's and Roasted Garlic Hummus. Hummus has always been one of my go to appetizers. It's very easy to make and just about everyone loves it. I like it best when it's served up with warm pita chips or bread. However, it serves well with chips and crudités also.
The Roasted Garlic Hummus is pairing up with some Dirty Vodka Martini's. I must admit, I love a good martini, but I absolutely love a good dirty one! I think it's the olives, especially when they're stuffed with blue cheese! In my opinion, there is nothing wrong with a little dirt when it comes to Dirty Martini's, it's all good.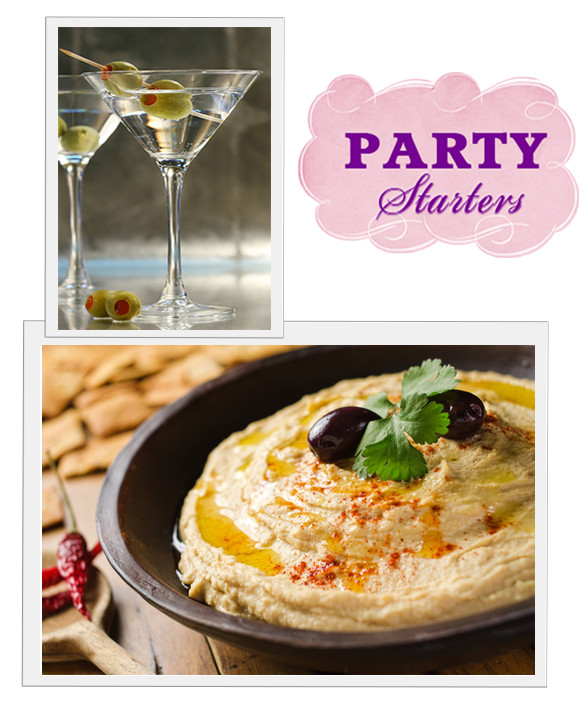 Here's the recipes.
Ingredients
2 cups of canned chickpeas drained and rinsed
2 tablespoons tahini
4 tablespoons extra-virgin olive oil
2 heads of garlic
1 lemon, juice of
½ teaspoon sea salt
Optional chopped parsley and more extra-virgin olive oil for garnish
Instructions
Preheat oven to 375°F Cut off the very top of the garlic clove, so that the tops of most of the cloves are exposed slightly. Coat with 2 tablespoons of olive oil and wrap securely in tin foil. Roast until garlic cloves are soft, 45 minutes to 1 hour. Remove from oven, open foil and allowing to cool.
Squeeze the soft, roasted garlic cloves out of the skin. Discard skin and add to food processor. Add the remaining olive oil, along with the chickpeas, tahini, lemon juice and salt. Blend until completely smooth, about 1 minute.
Serve sprinkled with parsley or paprika and drizzled with olive oil if desired.
Ingredients
6 oz vodka
1 dash dry vermouth
1 oz brine from olive jar
4 stuffed green olives olives
Instructions
Add the vodka, olive brine and ice to a shaker.
Cover and shake
Strain drink into martini glass.
Spear olives and drop into side of drink.
Enjoy!
celebrate life in style…
Save
Save
Save
Save
Save
Save
Save
Save
Save
Save