What could be better than celebrating and bring in the New Year with friends and some fabulous mouthwatering and delicious champagne cocktails, absolutely  nothing! We have rounded up some delectable recipes just for the bubbly and for you to mix up for your New Year's Eve bash. Starting with the Champagne Pomegranate Cocktail. This is a great cocktail to ring in the year with. Blended with the champagne, pomegranate juice, brandy and ginger ale – it balances it very well. This is a winner when it comes to sparkling libations. For more champagne cocktails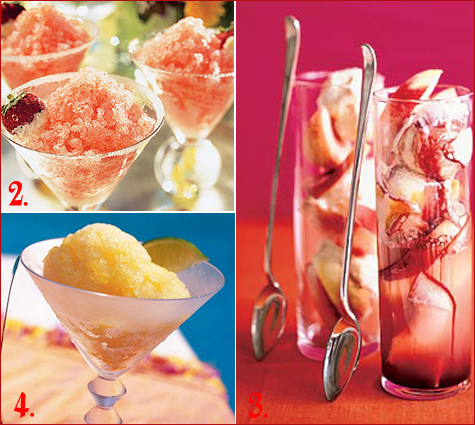 2. Pink Grapefruit, Strawberry, and Champagne Granita with Sugared Strawberries – Aren't you thinking what I am thinking? This makes your mouth water right? This granita is sweet and refreshing,  and the perfect combination of flavors.
3. White Peach, Cassis, and Champagne Floats – Part Kir Royale and  part peach parfait. This is absolutely scrumptious, I mean you can't go wrong with peaches and champagne, you will WOW your guest with this treat!
4. Mimosa Granita – A mimosa cocktail, freeze it with fresh squeezed orange juice, sugar, and a splash of lime to make a refreshing New Year's dessert. Light and airy, this sweet treat is a sinfully easy.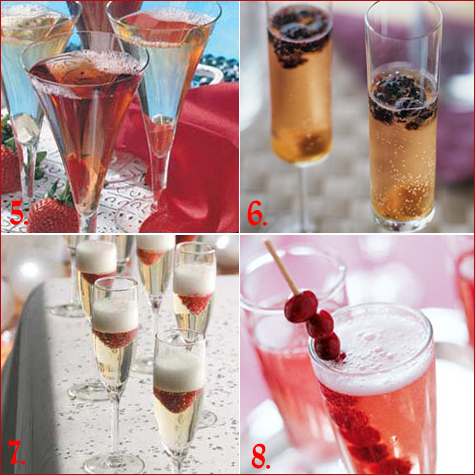 5. Peach Kir Royale – A refreshing cocktail with peach schnapps and champagne.
6. Blackberry Champagne Cocktail – With this cocktail your guest will get the bursting sweetness of blackberries on New Year's Eve! Chocolate pairs well with this also.
7. Jelled Champagne Dessert Recipe – You will need a spoon for this tasty treat. It's a dessert that's made to look like a glass of bubbling champagne, and from what we hear it's a culinary delight.
8. Sparkling Cranberry Rose – Treat your guest with this fizzy tasty cocktail. It's a blend of blend of sugar cubes, cranberry juice, and champagne.
So, here you go some great champagne cocktails for you add to you drink list for the outstanding New Year's bash you are throwing.
Enjoy!
celebrate life in style…