Wow, can you believe that Halloween is tomorrow? We hope that you have been inspired to go all out this year with your Halloween decorations and parties. We have one last bit of Halloween inspiration for those who are entertaining tonight and tomorrow, so get ready for  some great cocktails and party food. 
Above are some haunting cocktails that will keep your guest in the spirit.
1. How cute is this? The Jack – o'- Lantern cocktail  is a flavored orange cocktail that is simply delish and presented fabulously, aren't you loving that cute stem?
2. Quench the thirst of your vampires with the Vampire Kiss Martini. Rim the  glass with either red sugar or raspberry syrup to create the illusion of creepy blood, this one is not for the squeamish.
3. Brew-Ha-Ha Punch is a lime drink and pineapple juice, this party punch isn't scary at all–for the kids or the adults. But putting the punch in a second bowl of dry ice gives it that eerie feeling that's perfect for a spooky party.
4. Put your guest under a spell with the Hpnotiq's Halloween Hpnotist. The cool refreshing drink is mixed with Hpnotiq, vodka and lemon juice (yum) and for an extra-spooky effect, add a glow-stick garnish.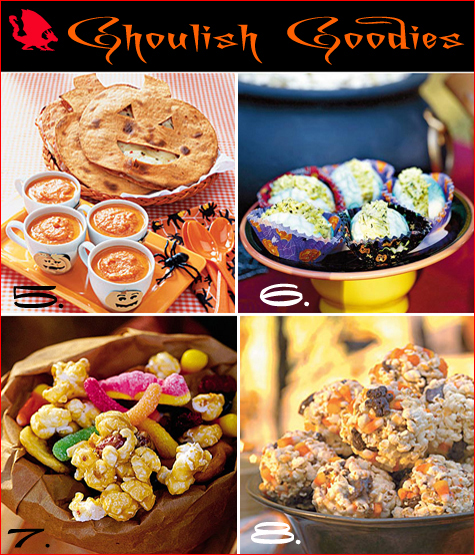 So to go with those mouth-watering cocktails we have some ghoulish treats!
5. Serve your guest some of these tasty and yummy Jack-o'-lantern Quesadillas. These pumpkins will look great beside the  Jack – o'- Lantern cocktail.
6. These Deviled Green Goblin Eggs are artful patterns on hard-cooked egg whites by cracking the shells of the cooked eggs and letting them stand in a food-coloring mixture. For a festive look, serve in decorative Halloween cupcake liners, these are so cute and creative when you lay these out your guest will WOW you!
7. For a tasty Halloween party starter mix up some Trash Mix it's salty, sweet, sour, fruity, gummy and more! All of your favorite flavors!
8.  Corny Candy Popcorn Balls are full of popcorn, teddy bear cookies, and candy corn and glued together by melted marshmallows, this treat will be a hit. You'll need to work quickly to shape the balls, so gather everyone to help.
Okay there you go, now move forward and create a posh and exciting Halloween Party and be sure to let us know all about it.
We hope that everyone enjoys their Halloween!
Enjoy!
celebrate life in style…
Save