Wow can you believe that Labor Day is here? Weren't we just kicking off the beginning of summer with pool parties and backyard BBQ's?  We are upon the   official end of SUMMER and I have found some of  the the best end of summer recipes and planning ideas for your backyard bashes!
Food and Wine has a delish potato salad with bacon and barbecue sauce (above pic 1 top left) that's a great companion for any main dish at your Labor Day picnic.
For a refreshing cocktail mix up a some Strawberry Sorbato and Prosecco Floats, (above pic 2 top right) it's a cool summer cocktail I found over at Bon  Appetite. In this grown-up float, "sorbato" (a cross between sorbet and gelato) stands in for the ice cream, and bubbly Prosecco is used in place of soda, these are to die for and your guest will love them.
Entertaining guest  for your Labor Day blow-out should be fun and easy – stress free.  For simple and smooth outdoor entertaining set up a beverage station separate from the food (above pic 3 bottom). This will allow for your guest to mingle and mix their own drinks (one less thing for the hostess to do). Good Housekeeping has some great organizing tips  for your backyard party.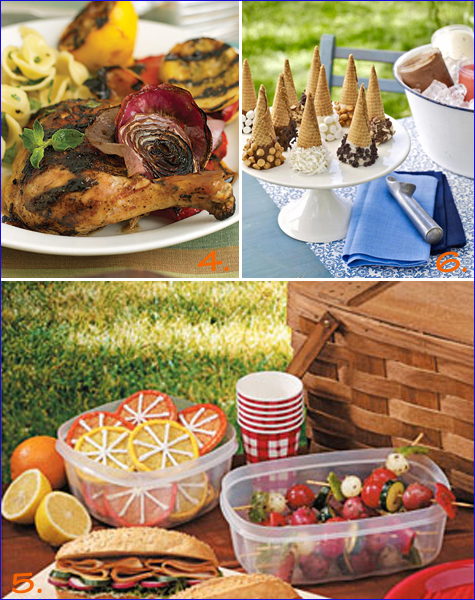 Martha has some fantastic Summer Grilling Party Menus. The Lemon Chicken Menu (above pic 4 top left)  has all the essential ingredients: meat, vegetables, and a delicious chocolate dessert.
Picnics are a fun and carefree way to entertain during the last lazy days of summer and to plan the Perfect Picnic (above pic 5 bottom) Taste of Home as some great ideas on how to fill the picnic basket.
Also no party is will be complete without with mouthwatering treats.  Keep it easy and simplify the ice cream sundae (above pic 6 top right).  Country Living shows how to dress up a dozen ice cream cones with different toppings  that will please everyone.
Be safe and enjoy your holiday!