Homemade Salted Caramel Sauce
Caramel Sauce, that's easy to make, that's what I have always heard. Last week, as I was folding the laundry I heard it again, coming out the mouth of the host of a cooking show I was watching. The pessimistic side of me urged me to ignore her and focus on folding the laundry, but the child in me, the side of me that is eager to learn all that I can about cooking and food, won the battle. By the way, that's also the side of me that is addicted to all things sweet and creamy. So I sat down, grabbed my recipe tablet and waited patiently for her to give the ingredients and method as I wanted to scribble it all down. Then to my shock I heard her say "The recipe calls for four simple ingredients and takes about 20min to make". What, I thought. Seriously that's it, all I need to make homemade salted caramel is sugar, butter, salt and heavy cream? Yes, that's it, simple enough, right. So I said, okay, why not give it a try.
I have to admit, the thought of making homemade caramel sauce in the past has scared me, but not anymore. I can also guarantee you, once you make your own sauce, you will never want the stuff you buy from the store again.
Now with that being said, when making homemade caramel sauce you need to use some caution. The temperature of the sauce when cooking it, will need to be at 350°F, which is really a high temp and the sauce also bubbles up in the pan when cooking, so don't get to close, and no sticking your fingers in the pan to taste! Also, you have to keep a constant eye on it, as you don't want it to crystallize.
You also need some necessary cooking tools: a candy thermometer and a 2 -3 quart heavy sauce pan.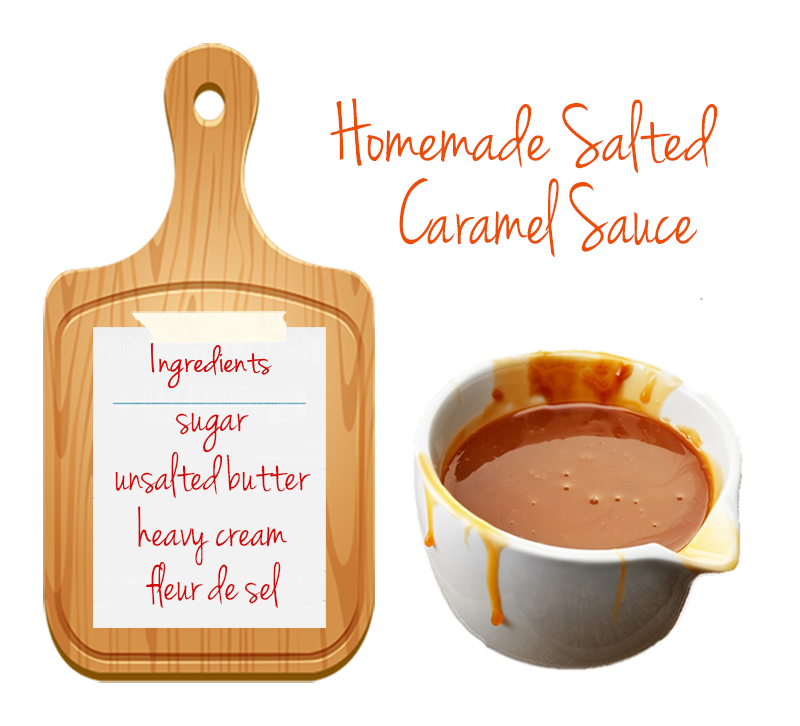 Ingredients
2 cups granulated sugar
12 tablespoons unsalted butter, at room temperature and cut into pieces
1 cup heavy cream, at room temperature
1 tablespoon fleur de sel
Instructions
Heat sugar on moderately high heat in a heavy saucepan whisking it as it begins to melt. Don't worry about the clumps that may appear, as the sugar melts, and you keep whisking they will disappear.
Once the sugar has melted and it comes to a boil, stop stirring, and just swirl it around in the pan.
Continue to cook the sugar until it reaches a dark amber color, check the temperature of the mixture, it should be at 350°F. Add all the butter to the caramel and whisk until the butter melts completely.
Once the butter has melted, take the pan off the heat. Slowly add the cream to the pan. Continue to whisk until the cream has incorporated and you have a creamy rich sauce. Add the fleur de sel and whisk to incorporate.
Allow sauce to cool in the pan for about 15 minutes, then pour into your favorite jar and let sit to cool to room temperature. Store in the refrigerator for up to 2 weeks, that's if it can make it that long in your house. You need to warm it before serving.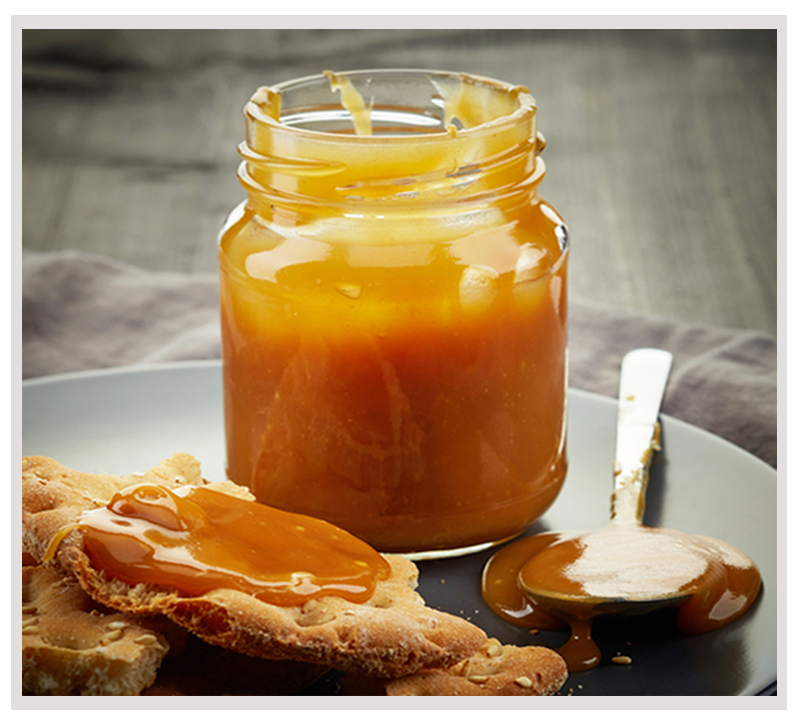 Good uses for Homemade Salted Caramel Sauce:
Eat it directly out of the jar with a spoon, which I would never do, or would I?
Use it as a dipping sauce for apples
Drizzle it all over your favorite ice cream
Bottle it up and give it away as gifts
Enjoy!
celebrate life in style…
Save