What's hot in the dessert world right now? Whoppie pies are and they're making a fast comeback in the world of sweets. I loved eating whoppie pies when I was growing up and today there are so many different flavors to choose from. That's why these Red Velvet Whoppie Pies are defiantly a hot dessert item for the Christmas holidays. Besides, who could possibly resist a large red velvet, cake  sandwich filled with a fluffy white filling, not me!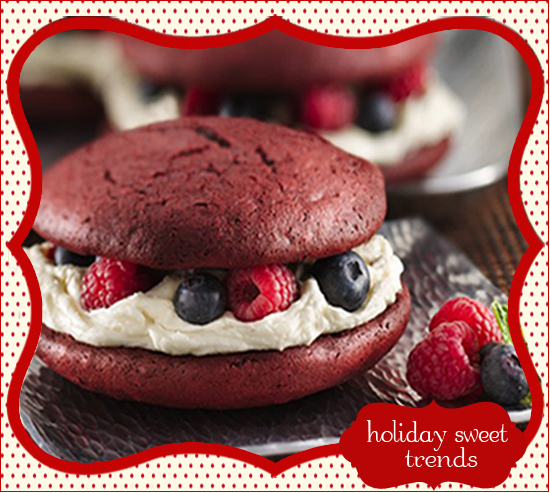 So get in on this hot dessert trend and bake up a batch of Red Velvet Whoppie Pies for the holidays.
Here's a super easy recipe that I found over at Betty Crocker – here you go: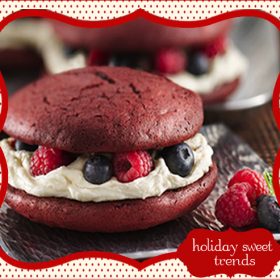 Ingredients
| Cookies |
1 box Betty Crocker® SuperMoist® devil's food cake mix
1/2 cup water
1/2 cup vegetable oil
3 eggs
2 tablespoons red food color
1 box (4-serving size) chocolate instant pudding and pie filling mix
| Filling |
1 cup butter or margarine, softened
2 cups marshmallow creme
1 1/2 cups powdered sugar
1 teaspoon vanilla
| Topping |
1/2 cup fresh blueberries
1/2 cup fresh raspberries
Instructions
Heat oven to 350°F. Line cookie sheets with cooking parchment paper or lightly spray with cooking spray.
In large bowl, beat cookie ingredients with electric mixer on low speed until moistened; beat 1 minute longer on high speed. Drop batter by 1/4 cupfuls 2 inches apart onto cookie sheets.
Bake 13 to 16 minutes or until set (do not overbake). Cool 2 minutes; remove from cookie sheets to cooling racks. Cool completely, about 15 minutes.
In large bowl, beat filling ingredients with electric mixer on high speed until light and fluffy. For each sandwich cookie pie, spread about 1/4 cup filling on bottom of 1 cooled cookie. Top with blueberries, raspberries and second cookie, bottom side down. Store covered in refrigerator.
Enjoy!
celebrate life in style…