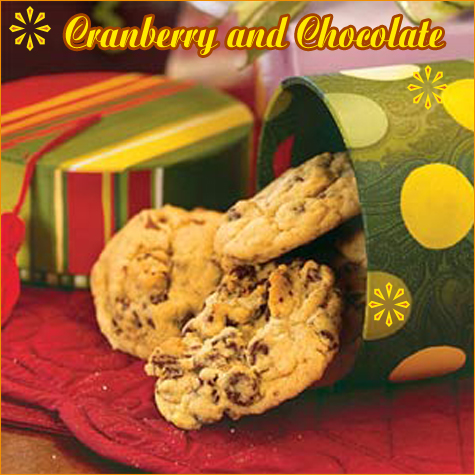 For those of you who love the classic cookies,  the Cranberry-White Chocolate Cookie is just for you! This a throwback cookie with cranberries and gooey yummy white chocolate. For those of you who are wondering – of course you can substitute the white chocolate morsels with milk chocolate or dark chocolate morsels.
Here's the recipe 
Servings: 3 dozen cookies
Ingredients
2 1/2 cups all-purpose flour
1 teaspoon baking powder
1/4 teaspoon salt
1/8 teaspoon baking soda
1/2 cup butter, softened
1 1/3 cups sugar
2 large eggs
1 1/2 cups white chocolate morsels
1 (6-ounce) package sweetened dried cranberries
Preparation
Combine flour and next 3 ingredients; set aside.
Beat butter at medium speed with an electric mixer until creamy; gradually add sugar, beating well. Add eggs, 1 at a time, beating until blended after each addition.
Add flour mixture to butter mixture gradually, beating at low speed until blended. Stir in white chocolate morsels and cranberries.
Drop cookie dough by heaping tablespoonfuls onto lightly greased baking sheets.
Bake at 350° for 10 to 12 minutes or until lightly browned on bottom. Remove to wire racks to cool completely.
Enjoy!
celebrate life in style…
Save
Save