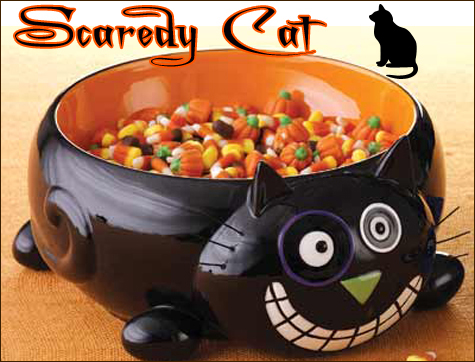 I was over at Gallery 19 and found that they have really cute tabletop goodies for Halloween, I mean seriously how cute is this Scaredy Cat Collection, and it will look fabulous at your party. The Scaredy Cat Serving Bowl is perfect for the treats; you can get a few of these to place around your home to grab treats from and is this is also perfect to greet your trick-or-treaters with on Halloween night.
For more Halloween inspiration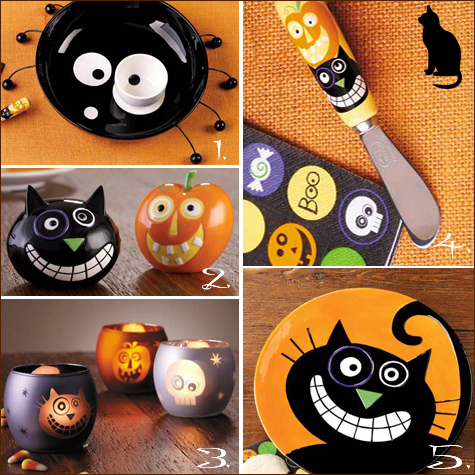 The Scaredy Cat-Spider Snack Set (all eyes on you) is great for serving appetizers or chips and dip and be used along with the Scaredy Cat-Friends Spreader for spreading cheese on crackers, how cute is that handle!
The Scaredy Cat Round Platter has the awesome cat front and center with a sinister smile is the ideal platter for ghoulish cupcakes, and other sweet baked treats.
A cute idea would be to arrange the Scaredy Cat-Friends Votive Candle Holders as your spooky centerpieces or set them up around party room to add a haunting atmosphere and the Scaredy Cat-Friends Salt & Pepper Shaker Set will only help to flatter your theme.
So head on over to Gallery 19 to see the full collection and create your own Scaredy Cat Party!
Do you have a Halloween tabletop or other Halloween ideas that you would like to share with the readers here at oh, how posh! We would love to hear about them. You can share your ideas by sending us anwith some images or a link to your blog along with a brief description. In the subject of your email message please put Inspiring Halloween Ideas.
Thanks and enjoy!
stay inspired and celebrate life in style…
Save