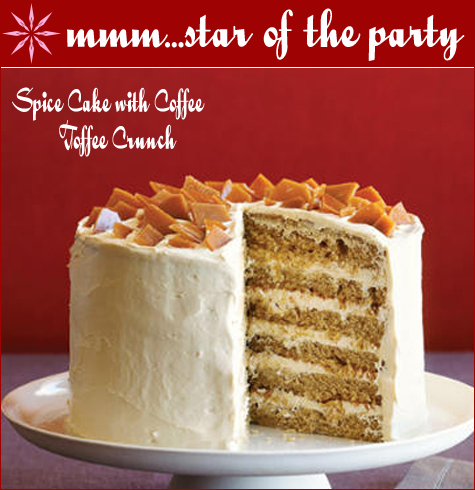 Need a grand finale for your Thanksgiving dinner? Well look no more, we have rounded up some very scrumptious desserts that will delight your guest and have them standing in line for more!
The  Spice Cake with Coffee Toffee Crunch above is a towering cake three layered cake, garnished with chunks of coffee-flavored toffee, and will make a luscious centerpiece for your holiday dessert table.  For more grand finale desserts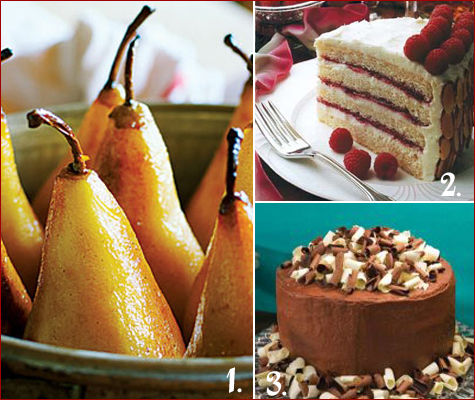 1. Caramelized Pears with Toasted Hazelnuts and Chocolate Sorbet, ahh yummy  golden-brown pears. This dessert will make a stunning finale, and  can be made well ahead of time. It has as a chocolate sorbet that adds a deep, rich flavor note. Pear and chocolate – yummy!
2. Almond-Scented White Cake, does this cake look mouth-watering or what? I mean how can you go wrong with raspberries, cream cheese and almonds. What a great combination, and the presentation is stunning. This will highlight the dessert table.
3.  A Divine Chocolate Cake, it has been said that chocolate is always best when savored slowly and with your eyes closed. Well you will definitely close your eyes and enjoy every single morsel of this decadent and luscious, three layer cake that is chocolate lovers dream!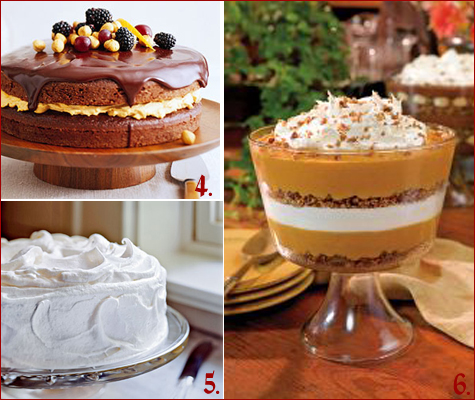 4. Pumpkin filling and a rich chocolate glaze, the Chocolate Harvest Cake is very irresistible and will end your Thanksgiving meal on a sweet note. Doesn't this cake look absolutely scrumptious, I mean seriously.
5. Yellow Butter Cake with Vanilla Meringue Frosting is a very classic cake that is not understated. This simple and classic cake is fluffy and very moist. Everyone will enjoy this cake down to the very last crumb.
6.  Phyllis' Pumpkin Trifle is a creamy delightful big finish. It as has a crumb crust packed with spices, brown sugar and pecans and a pumpkin filling, mmm, can't wait to try this.
Well, here you have some stars for your Thanksgiving dessert table. I hope you and your guest enjoy these stunning desserts!
celebrate life in style…