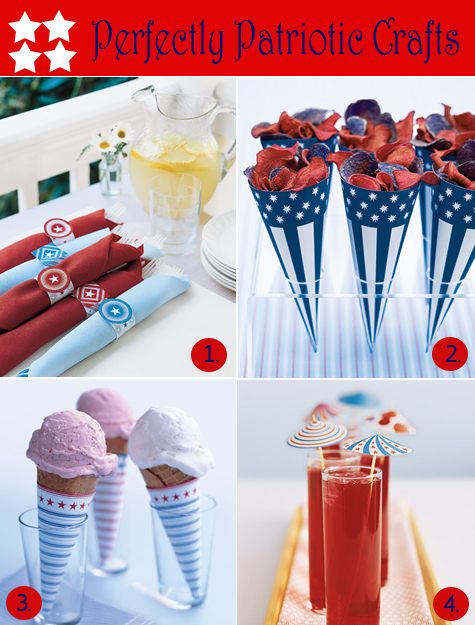 Happy Fourth of July!  Are you planning to enjoy your day with family and friends? Or are you planning just to play it by ear and keep it low key? Well,  whatever your plans are for celebrating the holiday, you can add to the fun by creating some easy family crafts. These cool and patriotic crafts will pair along perfectly with your family picnic or BBQ and the kids will love the idea of having something to create to the day of celebration.
1. Picnic Napkin Rings
Add sparkle to your table with our easily made picnic napkin rings. These star-spangled wrappers will add flair to a picnic and bursts of color to outdoor meals all summer.
2. Stars and Stripes Clip-Art Paper Cones
Filled with a mix of beet and blue-potato chips, these easy-to-make stars and stripes cone containers are something to cheer for.
3.  Patriotic Ice Cream Cone Wrapper
These stars-and-stripes clip-art templates make store-bought ice cream look extra special. To make the ice cream cone wrappers, simply print the clip art and wrap around the cone, fastening with a glue stick or double-sided tape.
4. Drink Parasols
Add a burst of patriotic spirit to summer sips with these red, white, and blue umbrellas. Pop one into every beverage you serve for an instant air of festivity. Besides doubling as stirrers, the little paper parasols help identify each guest's glass. Once you've fashioned our patterns into umbrellas, grab yourself a drink, sit back, and get ready to watch the sky.
Enjoy your holiday!
celebrate life in style…
Save