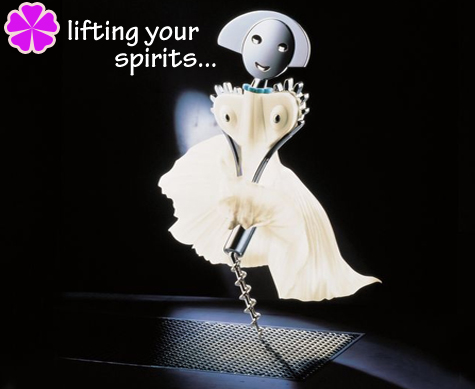 These corkscrews definitely have personality. Fun and functional the Anna G. corkscrews designed by Alessi are premium hand crafted in mirror finished chrome, and is essential for your bar and makes a hostess or housewarming gift!
The tail doubles as a bottle opener/foil cutter and twist Anna's neatly coifed head and her corkscrew "arms" rise in a graceful salute, oh cute is that I ask?
At your next wine tasting party not only will your guest rave about your impeccable  taste in wine they will not be able to stop talking about your playful and decorative corkscrew.
You can get the corkscrews from Alessi for $56.
For a great summer wine try the 2007 Riff Pinot Grigio ($11). This is a simple white wine, with apple and lemon character, with a delicate finish.